Hillhead 2022: Back with a Bang
Celebrating its 40th anniversary this year, Hillhead 2022 – the quarrying industry extravaganza – welcomed almost 18,500 trade visitors and an unprecedented 604 exhibitors across three show days.
With an impressive number of visitors in attendance and more than 600 of the world's leading equipment manufacturers, suppliers and service providers taking part, this year's Hillhead exhibition – held from 21-23 June at Tarmac's Hillhead Quarry, near Buxton, Derbyshire – once again cemented its status as the world's biggest working quarry event for the mineral products, construction, and recycling sectors.
It was very much back to face-to-face business at Hillhead 2022, as exhibitors and visitors alike took the opportunity to connect with their industry peers, take the pulse of what's happening, and marvel at the plethora of live machinery action that took place in the show's four dedicated demonstration areas.
Over the past four decades Hillhead has grown to be a show like no other – from the humble beginnings of the very first exhibition held in 1982 at Jackdaw Crag Quarry to the spectacular and unique quarrying extravaganza it is today.
Following the trials and tribulations of the past 18 months for the events sector, and a gap of four years since the last Hillhead show took place, this year's eagerly anticipated event was very much well received, with every square metre of exhibit space – including a new look extended Registration pavilion and tweaked layout at the top of the showground – completely sold out before its official opening.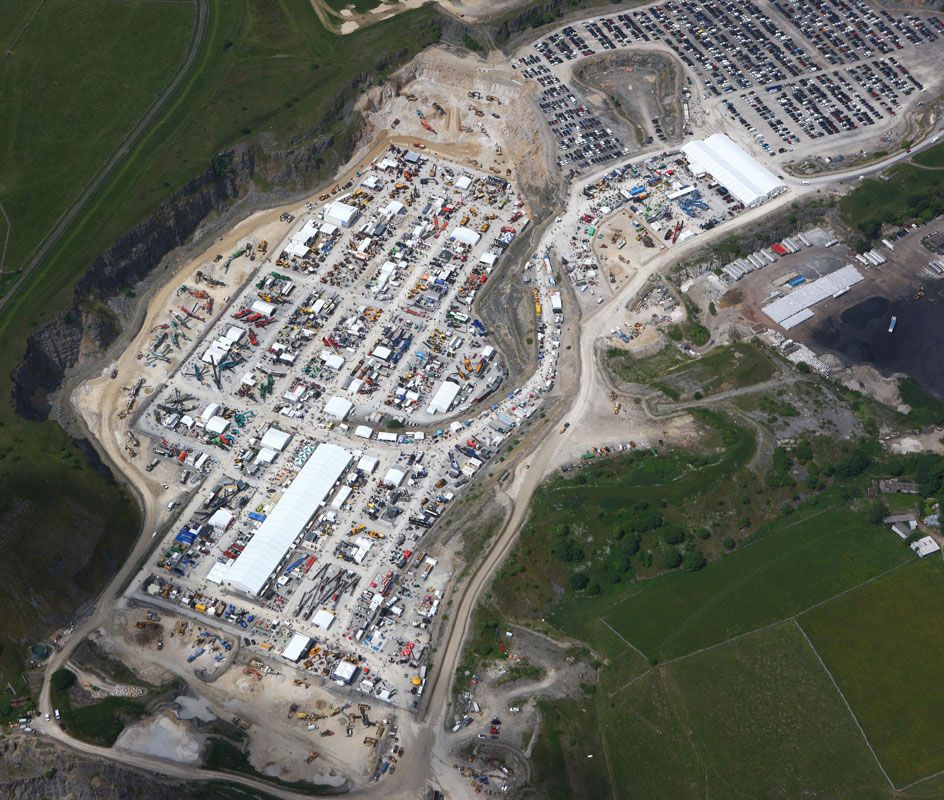 For the organizers, Hillhead 2022 was not only one of their most popular and best-attended trade fairs to date, but the recent edition also set new records for exhibition space, number of exhibitors, and opening day attendance, not to mention a raft of sustainability measures and hard-wired fibre-optic broadband installed strategically across the showground.
'Despite the supply issues affecting the industry as we emerge from the pandemic, Hillhead 2022 was our largest and most successful edition yet,' commented Hillhead event director Richard Bradbury.
'More than 600 exhibitors showcased their latest products, innovations, and technology, collectively offering more choice for the quarrying, construction, and recycling sectors than ever before. Some 18,500 unique visitors attended the show and were entertained by a record number of live demonstrations.
'Our new hard-wired fibre-optic broadband solution around the site proved to be a great hit, allowing exhibitors and visitors to keep connected and maximizing digital opportunities throughout the three days of the show.
'And along with the industry it represents, Hillhead 2022 implemented a range of policies to promote sustainability, including powering all indoor exhibitors using HVO (hydrotreated vegetable oil) fuel; removing single-use plastics; and introducing hybrid and solar-powered generators and security cameras.
'Above all else, Hillhead 2022 proved there is no substitute for face-to-face events for keeping up to date with the industry, building positive relationships and doing business. We look forward to welcoming you all again in 2024 with our provisional dates set for 25-27 June'.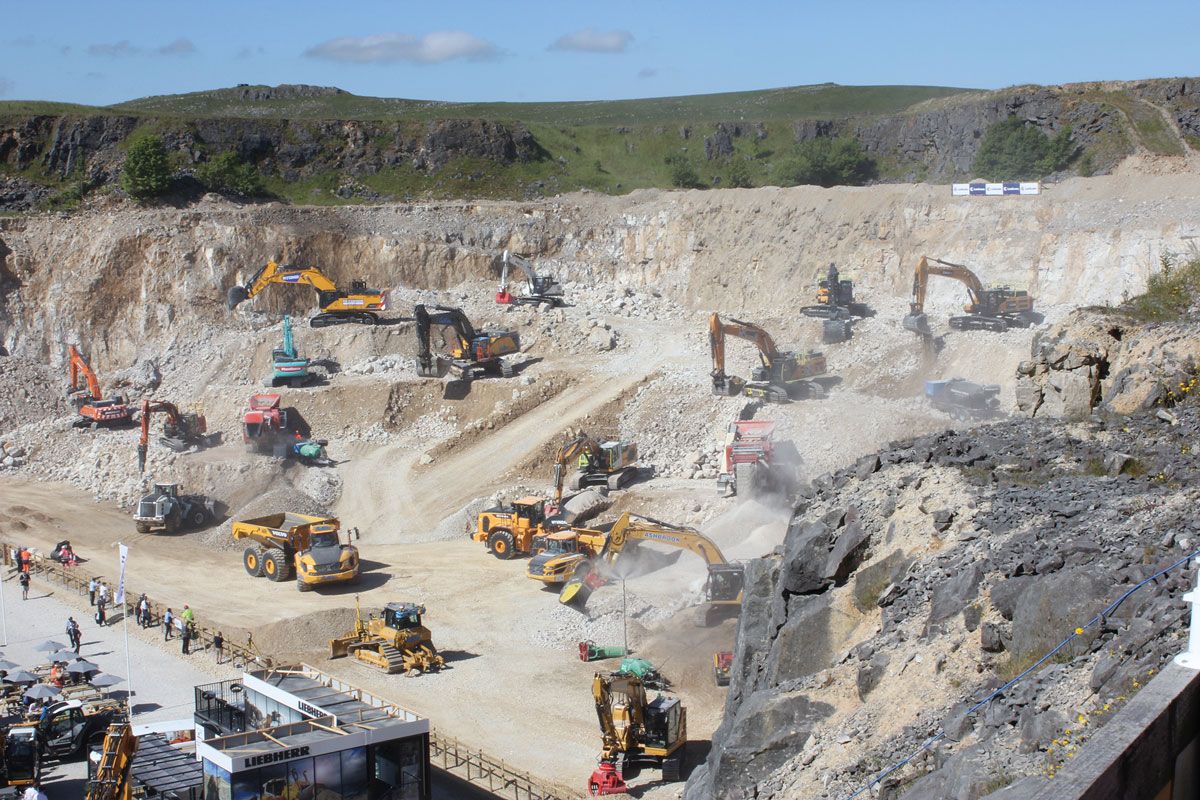 Back to business
Despite five-day forecasts of gloomy days and overcast skies for Hillhead 2022, it was in fact clear blue skies, sweltering heat, and huge success on the first full day of the show, as the iconic quarrying, construction, and recycling exhibition recorded the busiest ever opening day in its 40-year history, with a total of 8,283 visitors attending on day one.
As thousands flocked to the showground and thronged the aisles and live demonstration areas to catch up on the latest plant, equipment, and services on offer from a record number of exhibitors, Hillhead marked a welcome return of face-to-face exhibitions for the mineral extraction and construction sector.
During the show, the Quarry Management editorial team averaged almost 15,000 steps a day, walking from stand to stand snapping photos, checking out the huge amount of exciting new products and technologies on show, and catching up with an A-Z of major industry players, including Liebherr, Wirtgen, Bomag, Renault Trucks, Terex Washing Systems, McCloskey International, Martin Engineering, Metso Outotec and Epiroc, to name but a few.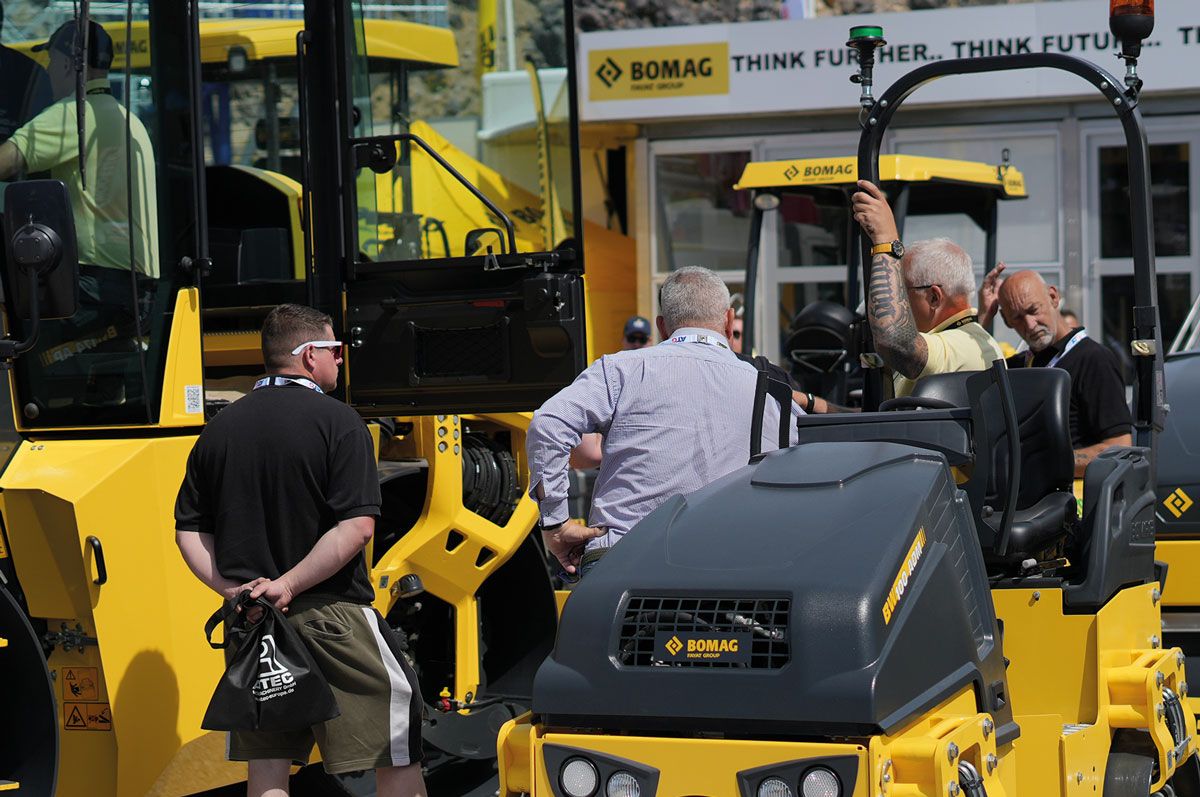 The consensus among the exhibitors and visitors at this year's show was that they were thrilled to be back at a leading in-person event such as Hillhead and everything else that it is renowned for – from live demos of heavy machinery and jaw-dropping industry announcements to unmatched networking opportunities and the thousands of products/services on display.
Emphasizing the importance of what face-to-face exhibitions and trade shows bring to the table, Crispin Turner, marketing manager for CASE Northern Europe, could not hide his delight with the equipment manufacturer's presence at Hillhead 2022.
'It was great to be back at the show and to be able to showcase our pioneering technologies and machine innovations as part of CASE's 180th anniversary celebrations on our stand,' commented Mr Turner.
'The atmosphere at Hillhead has been overwhelmingly positive and it has been such a pleasure to see industry friends, colleagues, and customers reconnecting after so long. For us, it was extremely important to be at the show, not only to promote our new and growing product lines, but also to demonstrate our wholehearted commitment to the industry and to get as close as possible to both existing and potential new customers.
'A key part of big trade shows such as Hillhead involves relationship-building with major customers. And it's been another great show for us. We've been overwhelmed by the level of interest in our equipment range and services, with lots of high-quality visitors and enquiries from the UK and abroad.'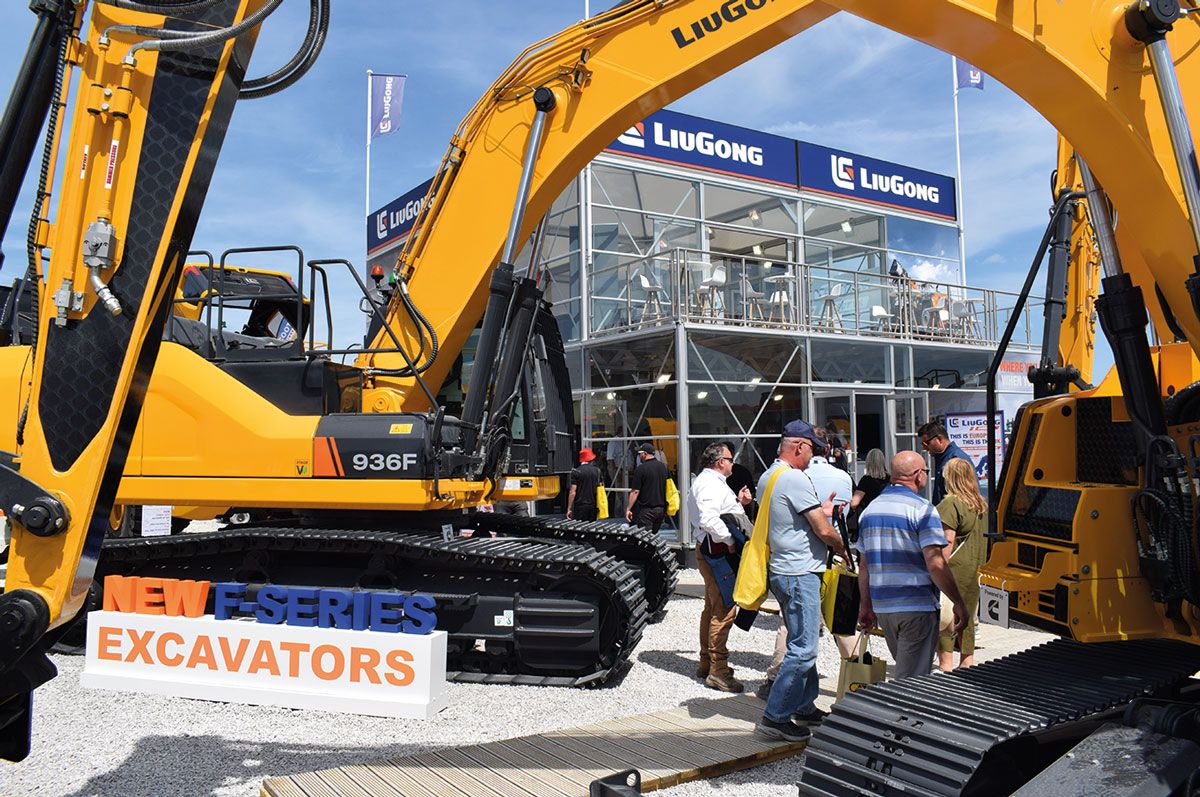 Another company who enjoyed a highly successful and rewarding Hillhead were first-time exhibitors LiuGong, who showcased an impressive line-up of no less than 10 machines, including the all-new 936F excavator and latest Dressta TD-25 Series-1 dozer.
Having only entered the UK earthmoving equipment industry nine years ago, the Chinese manufacturer has since made inroads into the quarrying and demolition market sectors with a revitalized dealer network and increased sales of its heavy-line products in what is a competitive European mobile plant market.
Occupying an eye-catching exhibition stand which included an impressive two-storey pavilion at the southern end of the showground (adjacent to the recycling demolition area), Steven Ford, managing director of LiuGong Direct UK, said he could not be happier with the location of the company's stand.
'As first-time exhibitors, we were delighted to be given an opportunity to showcase our quarrying capability and further promote our brand at Hillhead,' he enthused. 'During the show, we've had a phenomenal response to our heavy equipment range and the first-class after-sales support that we pride ourselves on. There's been lots of footfall on our stand, so much so that at times we were swamped with attendees and customers and therefore unable to scan and record the number of visitors because our staff were so busy.
'Overall, it has been absolutely fantastic, with several hundreds of enquiries and strong sales leads to follow up after the show. In addition, we've struck several key deals for new machines on our stand. It's been an incredible success for us all – and I'm already thinking about the next Hillhead in 2024.'
Other companies making their show debuts at this year's Hillhead exhibition were SANY and Lippmann. As one of the world's biggest heavy construction equipment manufacturers, Charley Bright, marketing manager for SANY UK & Ireland, said Hillhead 2022 was the perfect platform for SANY to showcase their wide range of excavators and wheel loaders, and to meet existing and prospective customers.
'This is our first time at Hillhead, and it has been a lively, buoyant, and very rewarding exhibition which has allowed us to target potential customers in the UK and Ireland heavy mobile plant market,' commented Ms Bright.
'Some people are still unfamiliar with SANY but attending Hillhead 2022 will help us promote and strengthen the brand on these shores. The show itself has been a huge success and well worth attending, as one of the key messages we wanted to convey on our stand is that unlike other manufacturers, we are not suffering from long lead times and have ample machines in stock.'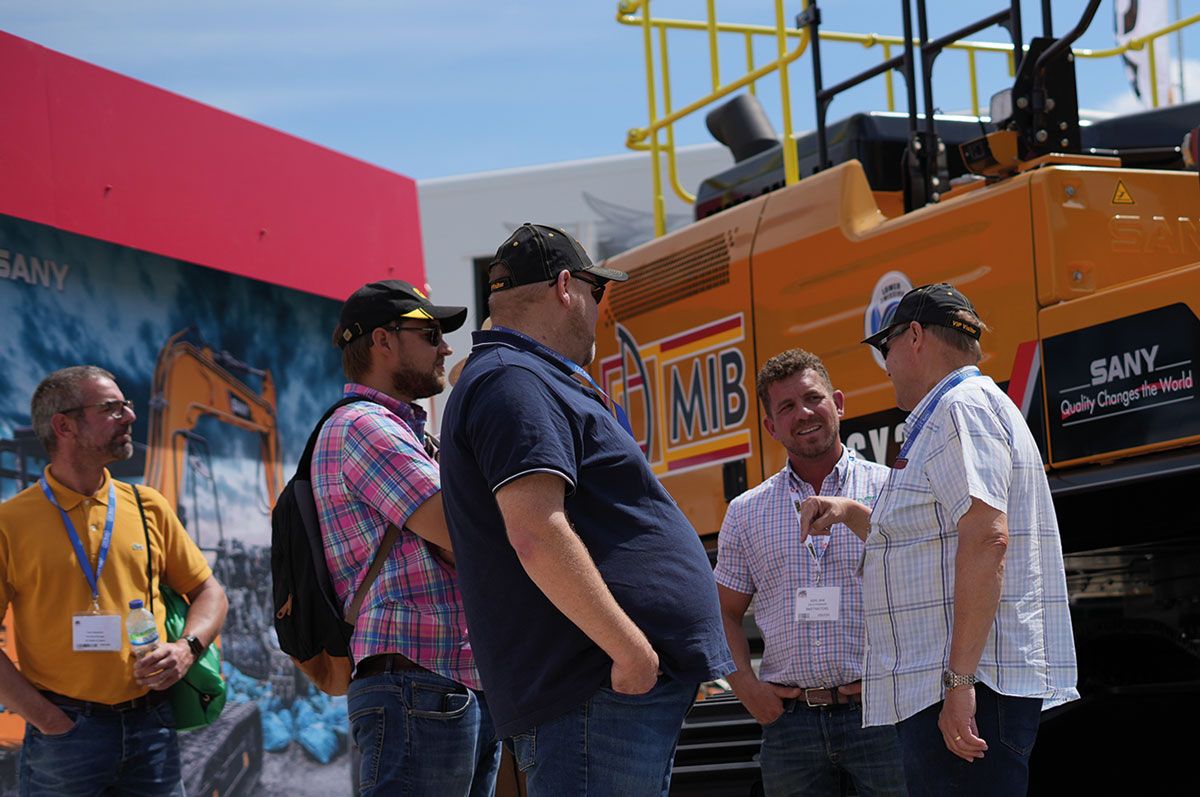 Another overseas OEM looking to break into the UK market are Lippmann who, in recent years, have identified opportunities for growth beyond their primary markets in the US and Canada. Renowned for their heavy-duty jaw crushers, John O'Neill, senior vice-president of sales at Lippmann, said there was no better place than Hillhead to showcase the company's engineering excellence and innovation in manufacturing crushing and screening systems.
'We've come to Hillhead to not only promote our mobile equipment range but also to meet industry professionals, build and develop face-to-face relationships with existing and potential customers, and to see what our competitors are doing,' explained Mr O'Neill.
'I've been mostly impressed by the huge turnout and quality of visitors to our stand. And the response to our mobile range has been fantastic with a significant number of positive leads to follow up on.'
Across on the McLanahan stand, Cory Jenson, executive vice-president of sales and business development, described this year's Hillhead show as the best-ever for the mineral processing specialists.
The company took its largest ever stand at Hillhead 2022, offering prospective customers the chance to view up-close the UltraWash 6206 plant (making its European debut) and UltraCrush modular cone crusher. McLanahan also announced the acquisition of UK-based CMB International Ltd, manufacturers of crushers, horizontal screens, inclined screens, feeders, and conveyors.
'It's been a terrific show for us. To have all your customers, competitors, suppliers, dealers, and partners in one place at one time is an incredibly efficient way of doing business, creating further opportunities, and reaching out to new markets,' said Mr Jenson.
'We're extremely pleased with the positive feedback on our products, and the reaction to and interest in our stand presence has been incredible. We are also delighted to have received a substantial number of strong leads and good enquiries, which is testament to our commitment to providing enhanced and unique wet/dry processing solutions in the UK and European markets.'
Another company equally positive about the benefits of exhibiting at Hillhead 2022 were Michelin, as brand manager Emma Thorley told QM, it was great to see the industry come together again, face-to-face, but at the same time it was crucial for the earthmover tyre giant to return and bring customers up to speed with its extensive line of new OTR tyre products and enhancements since the last show.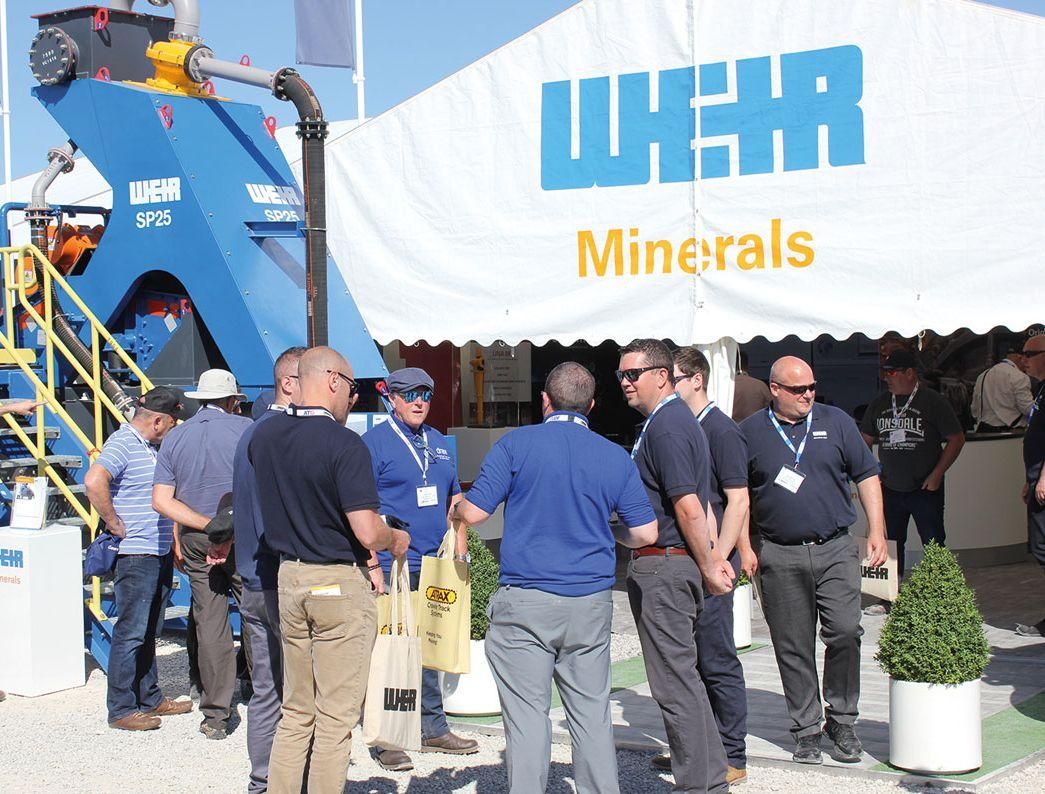 'It's been amazing to be back at one of the most important trade shows on the events calendar,' commented Ms Thorley. 'We've always had strong interest from visitors and customers on our OTR product lines, but this year we also wanted to showcase our value-added services to customers in aftermarket care and support, none more so than the Michelin Tire Care tyre pressure monitoring system and a series of tyre safety seminars we have specially developed for the heavy mobile plant sector.'
Likewise, Louise Kingston, communications manager for Weir Minerals Europe, was delighted with the positive response from Hillhead attendees, and the scale and quality of visitors to the company's stand.
'We've had a lot of people on our stand enquiring about our exhibits and processing technologies,' said Ms Kingston. 'The weather has also been warm and wonderful. I've never seen so many visitors and customers on the first day of the show, and what I like about Hillhead is that it caters for specific industry sectors, which has helped us to engage directly with potential new customers from the wider quarrying industry.'
Hillhead attendees and visitors alike could not have asked for much better weather at this year's Hillhead exhibition. Sunshine and hot weather continued right through the middle day (Wednesday) and final day of Hillhead 2022, albeit with a refreshing touch of fine drizzle towards the tail end of the show.
Handshaking on stands, machinery demos, and the sights of ice cream, sun lotion and sunglasses were an everyday occurrence. And judging by all the positive comments from exhibitors and visitors during the three days of the show, this year's Hillhead appears to have been a huge success.
Whilst Hillhead continues to be a highly popular spotlight event for companies to showcase their new products, technological innovations, and services to a high-calibre UK and international audience, the exhibition also provides an ideal platform and opportunity for businesses and organizations to launch key industry initiatives, unveil new partnerships or share a new brand refresh or identity. At Hillhead 2022, there were no shortage of such announcements.
Promoting the wide-ranging benefits of sharing best practice in health and safety across the industry, a key focus on the Mineral Products Association (MPA) stand was helping its members deliver the goals outlined in the Association's 'Vision Zero' strategy.
The MPA's health and safety specialist Tony Entwistle, health and safety manager and special advisor Chris Leese, and newly joined former HSE Chief Inspector of Quarries Colin Mew were on hand to welcome stand visitors and discuss the importance of Vision Zero and the need to work together to eliminate or mitigate the high-consequence hazards associated with 'The Fatal 6'.
During the show, a range of easily deployable resources were available free of charge from the MPA stand, including the newly launched MPA Sharing good practice 2021/22 guidance, which summarizes the winning innovations and developments from the Association's Health and Safety Awards 2021.
As well as unveiling a new professional development mapping tool at Hillhead 2022, the Institute of Quarrying (IQ) hosted a group of Year 10 students from a local Derbyshire school keen to explore the range of career opportunities in the mineral products and extractives sector.
The school visit to Hillhead was indeed a step in the right direction, given the urgent need for fully qualified and skilled workers in the wider construction sector, particularly the relatively low numbers of entrants coming into quarrying, road contracting, haulage, and mobile plant occupations.
James Thorne, IQ chief executive officer, stressed the importance of engaging with younger people and attracting potential candidates by raising awareness about the rewards of working in the quarrying and mineral extractives industry.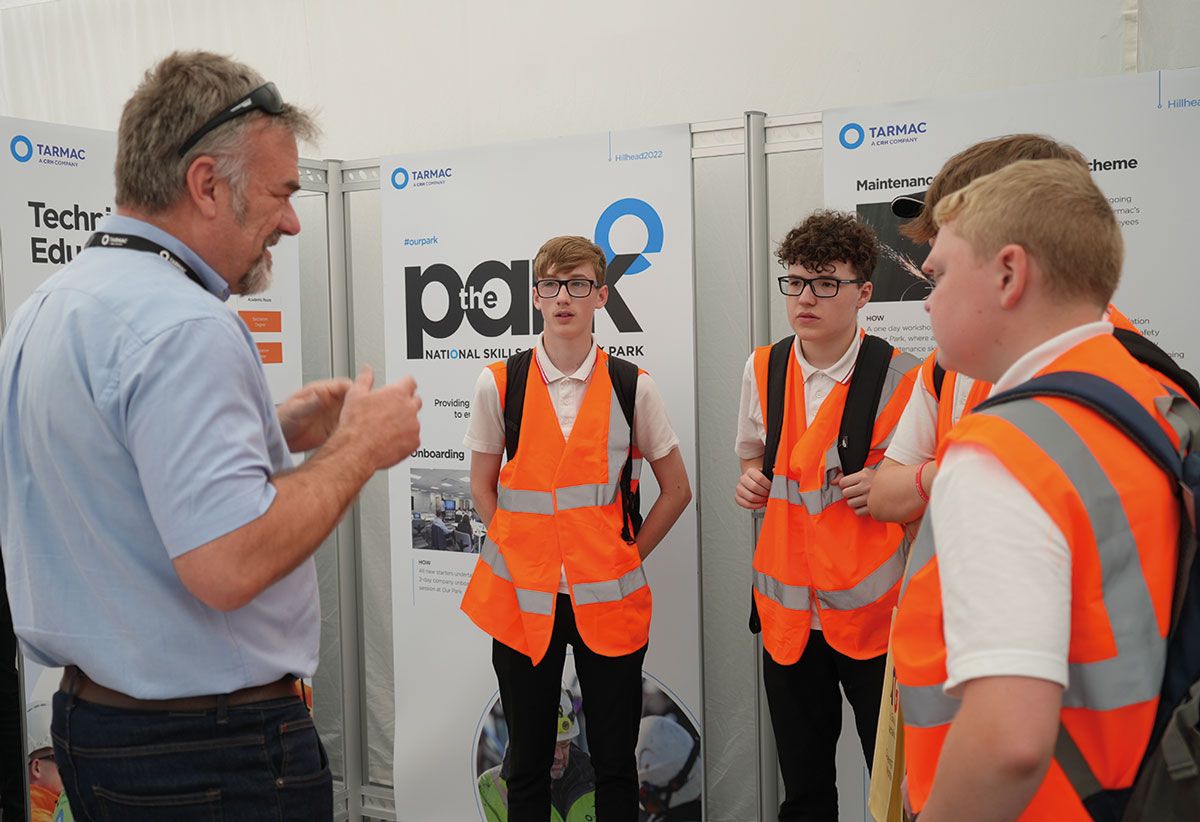 He told QM: 'Being able to show young people first-hand the incredible range of extraordinary careers that our sector has to offer must be a way forward for us all. It's only by opening our doors and sharing what we do with our communities that we will be able to attract the best of the best to join us and invigorate our industry for the future.'
Other Hillhead exhibitors highlighting the importance of graduate schemes, qualifications-led training, and apprenticeships to attract the next generation of young people to the quarrying sector included Tarmac and MP Skills (part of the Mineral Products Qualifications Council).
On the Tarmac stand, visitors were able put themselves to the test at operating a mobile plant simulator, whilst company representatives were on hand to discuss the different initiatives designed to inspire young people into quarrying and kick-start successful careers in a wide range of roles such as engineering, operations management, technical and sales.
In the main pavilion Neil Peacock, general manager of MP Skills, who were co-exhibiting with sister companies MP Futures and MP Awards on the MPQC stand, said Hillhead provided the perfect platform to show off their growing portfolio of industry training courses.
'Over the next few years, there will be an even bigger focus on more training, apprenticeships and upskilling the industry's workforce,' he emphasized. 'So, it's important to be at Hillhead and remind everyone of the importance of delivering the relevant, practical, and hands-on training for emerging industry talent, whether that is apprentices, graduates or those retraining from other sectors.
'The show itself has been brilliant – interest in our products and courses has exceeded all our expectations and we're thrilled with the fantastic leads we've received, not to mention the opportunity to re-engage with customers, both old and new, in a face-to-face environment.'
During Hillhead, Terex Materials Processing (MP) – one of the world's leading manufacturers of materials processing machinery that includes well-known brands Powerscreen, Terex Minerals Processing Systems, Finlay (formerly Terex Finlay), Terex Washing Systems, EvoQuip, and Fuchs – took the opportunity to discuss their ongoing growth strategy and how they are further developing the business, improving their product lines, and investing heavily in R&D.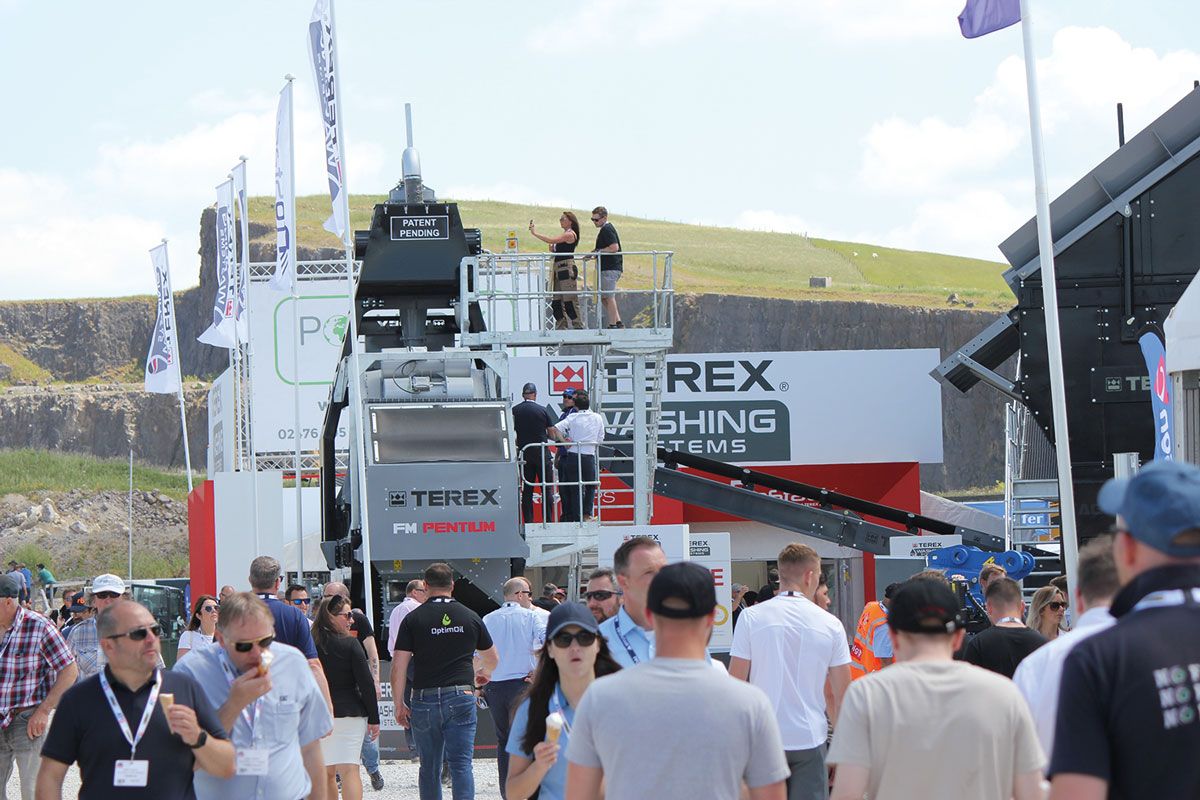 'We have strong ambitions to drive the company forward over the next few years, and I'm personally excited by the challenges and growth opportunities ahead,' said Kieran Hegarty, president of Terex MP. 'We have a long record of exhibiting at Hillhead and our team felt this year's show provided an excellent opportunity to share our latest developments, offerings and product innovations, not least hybrid electric technology, with a large audience.'
Demonstrating their green credentials at Hillhead 2022, mobile crushing and screening specialists Finlay showcased an impressive range of hybrid powered machines, including the J-1175 jaw crusher and 883+ triple-shaft hybrid screener. The occasion was also used to unveil a rebrand of the business, as Brian Pauley, marketing manager for Finlay, said there was no better trade show to share the new logo, slogan and fresh brand identity with visitors, customers, and partners than this year's Hillhead exhibition.
'The show has always been, and continues to be, the perfect venue for launching new products to customers,' he commented. 'But it's also a great public place to share important developments, market trends, and exchange information with people. Just like previous Hillhead shows, we've been able to engage with a huge number of people, particularly on the Wednesday, and the feedback on our equipment line-up and rebrand has been both positive and complimentary.'
Echoing these sentiments at the event was Jacqueline Reid, director of global market and product management at Rokbak, who said visitors to the Scottish manufacturer's stand were very positive about the company's new brand identity and recently rebranded RA40 and RA30 articulated haulers.
'We're absolutely excited to be back at Hillhead and being able to engage with people once again – face-to-face and in lovely weather – after what has been a challenging period for most of us,' she remarked.
'We took the decision to relocate and book a stand on the main throughfare, which has worked out brilliantly for us. We've attracted high levels of footfall to our Solid as a Rokbak-themed stand and our haulers, which now come in Rokbak colours and livery – from what were previously Terex Trucks – have been met with an overwhelmingly positive response from visitors and customers alike. All in all, it's been hugely satisfying to be at Hillhead 2022.'
Regular exhibitors Spillard Safety Systems, who are celebrating 30 years in business, used this year's Hillhead exhibition as the UK launch pad for their new and exclusive 360º surround-view bird's eye camera system, with 3D immersive high-definition, alongside the company's AI human detection system.
Peter Spillard, managing director, commented: 'Safety is our main priority – we are always looking to take vision to the next level for the construction and quarrying sectors; removing the hazards of blind spots with an intuitive 3D immersive driver/operator experience, enhancing their all-round awareness, and producing the most superior surround-view system for off-highway vehicles.
'It was a no-brainer to bring our latest safety equipment and human detection system to the show and demonstrate these incredible innovations to a vast number of high-quality visitors. For us, Hillhead is the number one showcase event for launching new products/services to customers and a new network of prospects.'
Another exhibitor enjoying a hive of activity on their stand were Mecalac Construction Equipment UK Ltd, with Allison Sedgwick, operational marketing manager, saying this year's event was the most successful and busiest ever Hillhead for the compact equipment specialists.
'We've been pretty much busy all day, every day,' commented Ms Sedgwick. 'The show for us has been a resounding success for many reasons. We've picked up tonnes of enquiries and sales leads to follow up on, we've strengthened our brand, we've engaged with so many like-minded people in our industry, and we're proud to have created a visually engaging and immersive stand with a stellar line-up of enhanced products. I would say Hillhead 2022 was better than the previous show in 2018.'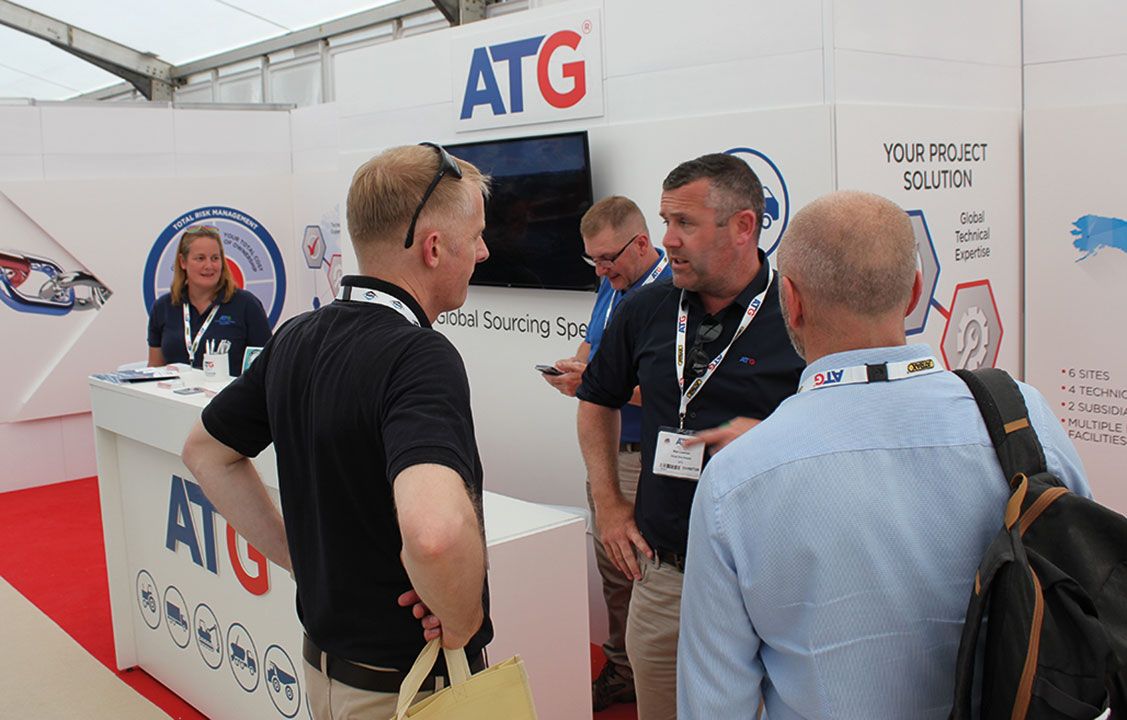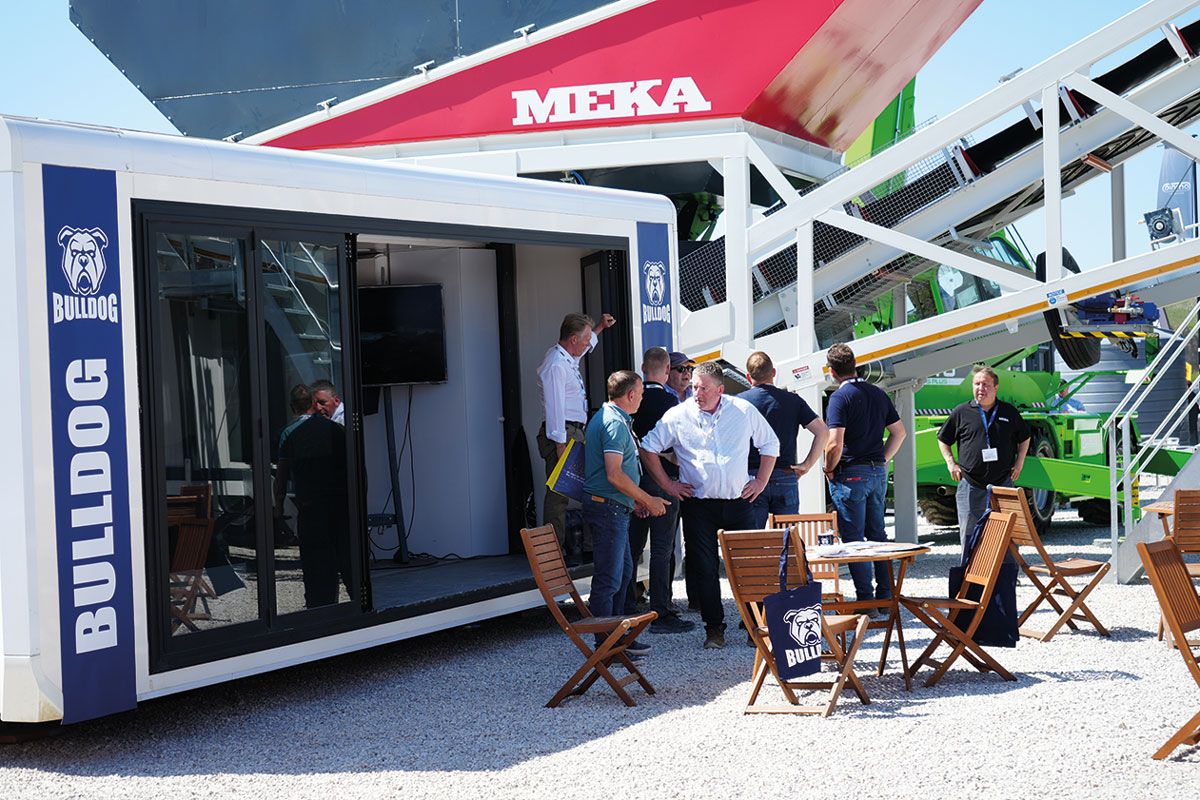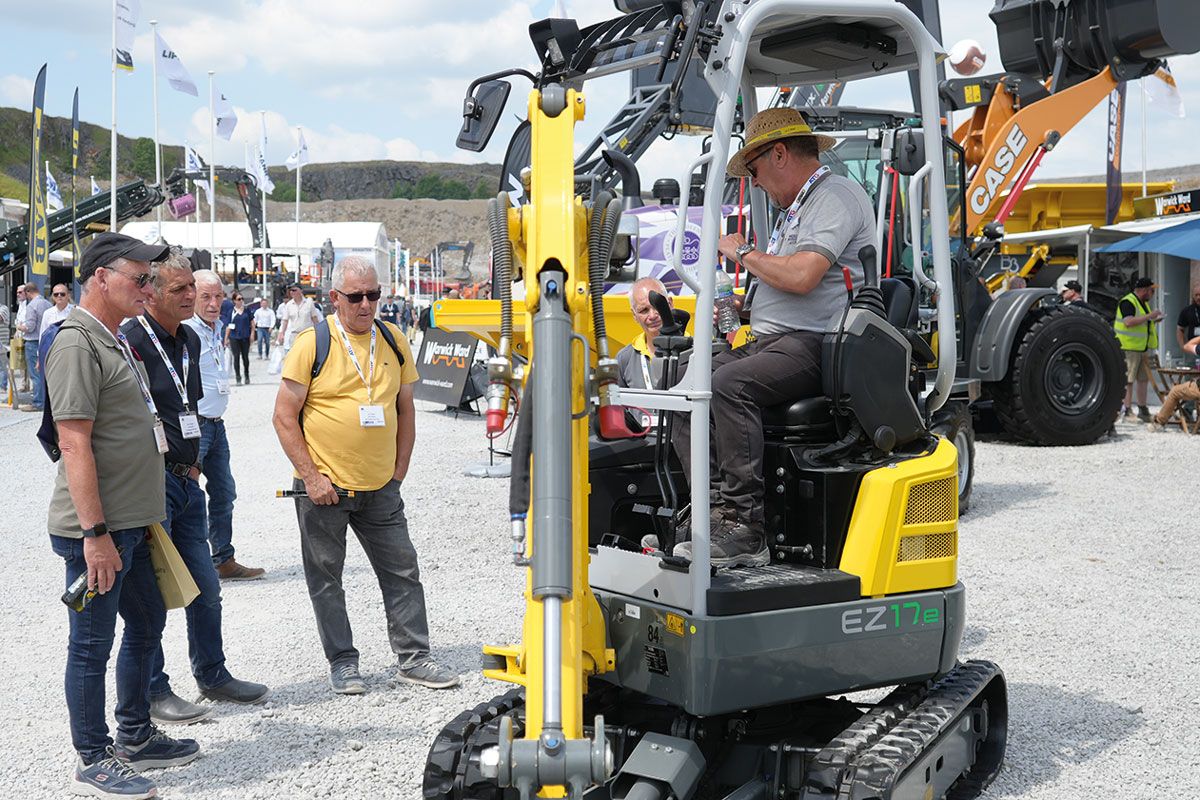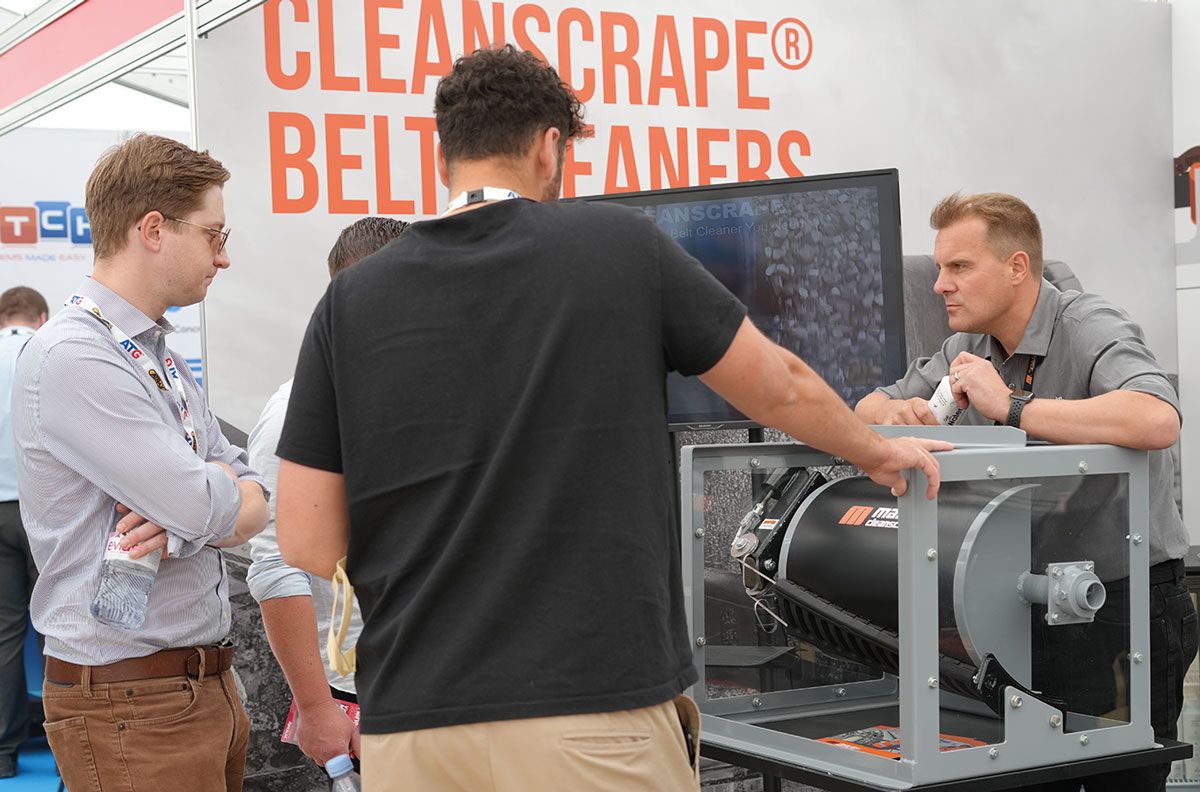 Since the last edition of Hillhead in 2018, many of the exhibitors at this year's event have invested heavily in the research and development of their products and services. And two constant themes that ran through all areas of the Hillhead showground were decarbonization (more about this in the following article) and innovation.
Keen to show off the latest construction technologies and range of connected solutions available in the market, Trimble Technology exclusive dealers Sitech UK & Ireland took their biggest-ever stand at Hillhead 2022, to present a host of new products and innovations to customers, decision-makers, and the public.
'We really wanted to demonstrate how connected sites increase visibility and control of process flows during the design and construction phase of projects and, ultimately, allow contractors to operate their sites more productively and cost-efficiently,' explained Brian Core, regional sales manager for Sitech UK & Ireland.
'Being part of the Hillhead show provides the perfect platform to speak with existing and potential customers about these ground-breaking technologies and how these developments and innovations are reshaping the construction and mineral extraction sectors.'
Elsewhere in the main showground, Hillhead debutant Volvo Trucks enjoyed huge success and used the show to display a number of trucks, including the popular FMX 460 8x4 tipper and FE Electric 6x2 rigid, the UK's first fully operational electric tipper.
'The level of interest and feedback on the machines, particularly the FE Electric, has been phenomenal,' beamed Dawn Stoker, events manager for Volvo Trucks. 'Having co-shared a stand with SMT GB at the last Hillhead event, this was the first time we've exhibited at the show as a standalone brand.
'And it has clearly paid dividends – our stand was packed on Tuesday and Wednesday, with a record number of enquiries and leads, not to mention a decent tan in the process. We'll definitely be back at the next Hillhead, hopefully bigger and better.'
Likewise, Christophe Nelissen, account manager for Magotteaux, described Hillhead as 'one of the most important construction equipment shows' on their trade event calendar. He commented: 'The UK is a key market to us, so it was really important to be at Hillhead and showcase our latest equipment and innovations such as Mag'Impact, Europe's only true vertical impactor, and explain how we can help potential customers maximize their materials processing efficiency.
'We've seen a lot of visitors coming to our stand and, as a result, received a lot of good quality leads, as well as new contacts for new dealer opportunities. The show was a great success on all counts and clearly worth coming to.'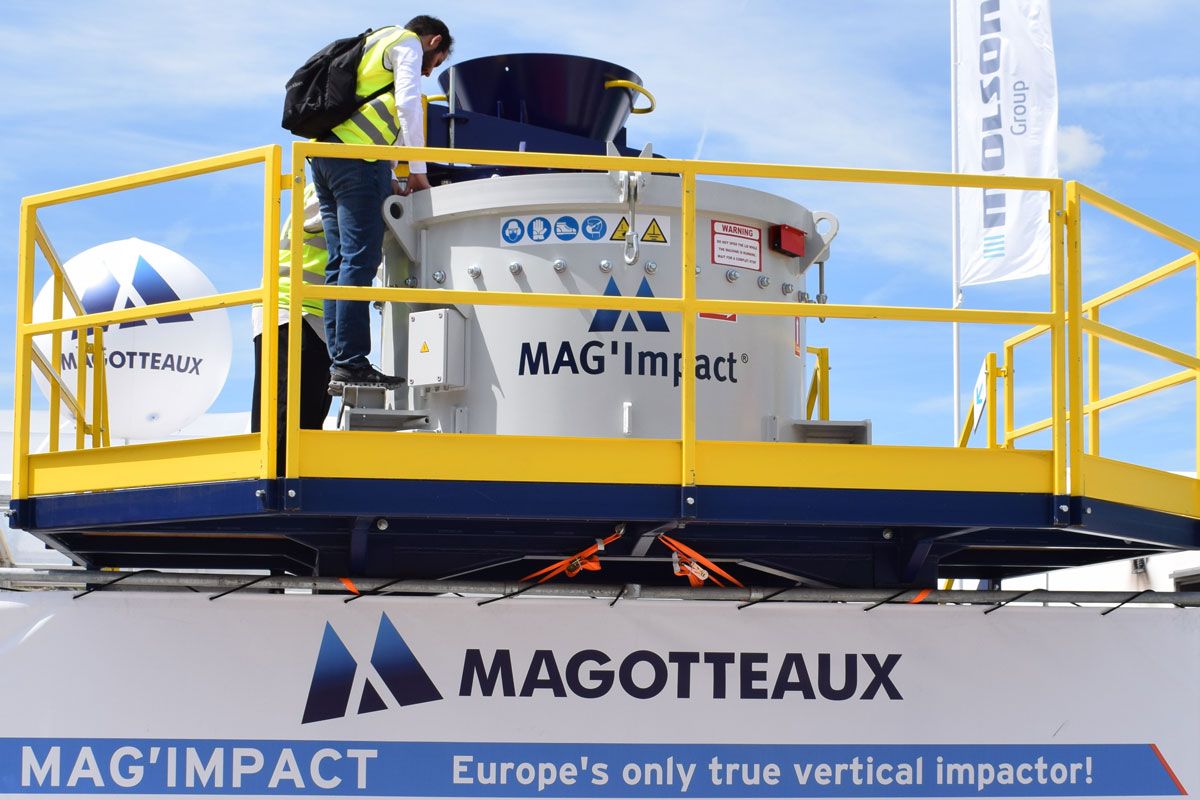 As well as the plethora of indoor and outdoor stands and static displays, Hillhead is renowned for its working demonstrations, which take place in four live demonstration areas around the quarry. This year there were over 50 companies and a record 60+ machines taking part in the live action, including several interesting and exciting new names amongst the more familiar cast of regulars.
As always, the Quarry Face demonstration area was one of the show's biggest and most spectacular attractions. Following a 30,000-tonne blast carried out in advance of the show, this newly reconfigured area allowed visitors to get closer to the action than ever before. With a Finlay J-1170 mobile jaw crusher and an SBM Remax 400 tracked impact crusher positioned at the heart of the action, visitors were treated to the sights and sounds of a broad array of earthmoving machines on digging, loading, hauling, and feeding duties.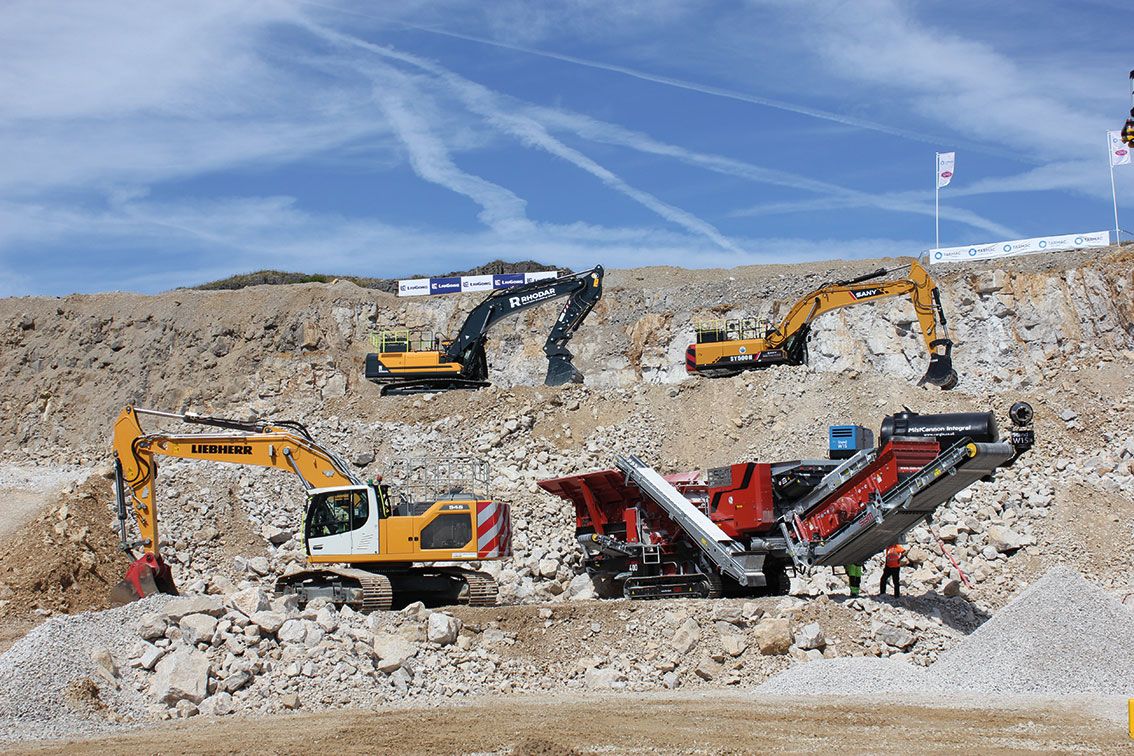 Appearing in this area for the first time were excavators from Chinese manufacturers LiuGong, with their heavyweight 95-tonne 995F model, and SANY, with their 50-tonne SY500H. Other large excavators being put through their paces included the CASE CX750D, Doosan DX420LC, Hitachi ZX225USR-7, Hidromek HMK390LC, Hyundai HX480AL, Kobelco SK350LC, Liebherr R945, and Volvo EC950E and EC350E models.
Wheel loaders taking part in the live action included CASE's 912G and 1021G models, a Doosan DL550-7, Hitachi ZW310-7, Hidromek HMK640, and Hyundai HL980A, whilst articulated dumptrucks included the Doosan DA30-7, Liebherr TA230, Rokbak RA40, and Volvo A60H. Also operating in the Quarry Face demonstration area was a Sitech/Trimble-equipped Cat D5 dozer, along with a range of excavator screening buckets and other attachments from MB Crusher and Worsley Plant, whilst effective dust control was provided by MistCannon and ground-treatment dust-suppression solutions from Corgin.
Just around the corner in the Rock Processing demonstration area, otherwise known as 'Crusher Alley', a range of mobile crushers and screens took part in regular demonstration sessions to show off their capabilities. Demonstrating equipment for the first-time at Hillhead, Astec put their GT125 jaw crusher through its paces feeding a GT165 scalping screen, whilst on the adjacent demo plots Rubble Master showed off their RM100GO! hybrid impact crusher and Powerscreen showcased a Premiertrak 450 jaw crusher operating independently alongside a Trakpactor 480SR impactor, which worked in tandem with a Chieftain 2100XE Hybrid screen.
Next to the Powerscreen machines was an EvoQuip Cobra 230R impactor working on its own, and next to that an MDS M515 trommel, also operating independently. They were operating alongside a three-machine Finlay demonstration comprising a J-1175 jaw crusher feeding a C-1550+ cone crusher, which, in turn, fed a 696 three-deck screener. Activity in Crusher Alley was rounded out by a Tesab 800i jaw crusher operating independently, and finally a McCloskey J45 jaw crusher feeding a TS4065 tracked stacker conveyor.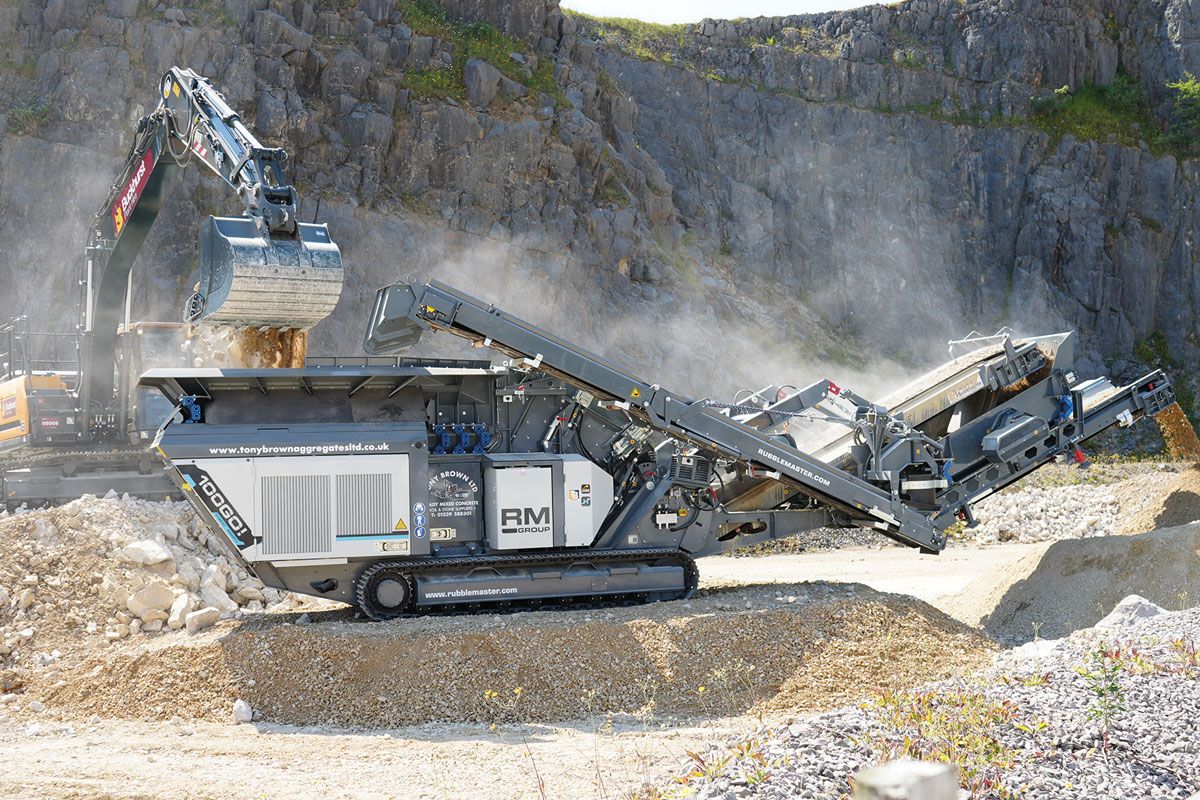 At the southern end of the site, the Recycling demonstration area was another hive of activity. Here, Warwick Ward demonstrated a Terex Ecotec TDS820 slow-speed shredder and TTS518T trommel, as well as a Keestrack B5 jaw crusher and K4 screen. Duo were also on hand in this area in their capacity as recently appointed UK Metso Outotec distributors, with a Lokotrack LT300HP cone crusher being given a workout at regular intervals. Also in this area, Herbst were in their usual location demonstrating an array of smaller equipment, including the Compac C900 tracked jaw crusher, the Compac 900 Agricrusher and HAC 900 tractor-powered jaw crushers, and a Compac screen. Likewise, Engcon were in their usual spot too demonstrating a variety of hitches, breakers, grabs, and other attachments.
Meanwhile, near the top of the ramp, close to the newly expanded Registration pavilion, Hillhead's fourth live working area featured demonstrations by an eclectic mix of plant and equipment, including an RMGroup BB215 bulk bagging system, Air Spectrum Environmental dust cannons, a Hamm H16i roller, a Rubble Crusher RC150V jaw crusher, and various hammers, compactors, tiltrotators, bucket screeners and other attachments from companies such as Steelwrist, Epiroc, and FRB, among others.
Celebrating their 30th anniversary this year, wet processing specialists CDE said it was great to be back at Hillhead again, especially in their new location at the top of the site near the Registration pavilion. Expressing her delight, Sarah Corr, head of marketing, said: 'It's been a brilliant show. We moved location this year and we've had some amazing traffic coming past us and joining us on the stand. We've had two really busy days and met a lot of new people, including international visitors from Canada, Kuwait, and Mongolia, but it's also been a great opportunity to re-engage with people we know. Hillhead really is one of our big three shows, along with Bauma and ConExpo'.
Dan Fordham, managing director of concrete batching plant specialists Danfords, was equally upbeat: 'We've had a fantastic two days so far,' he said. 'We do enjoy Hillhead as it attracts a great variety of people from all over. And the great thing about the show this time round is that because of the long gap due to Covid, people are really keen to see what's new out there. We've had many genuine new enquiries about our batching plants as well as existing customers wanting to upgrade or go bigger, so it's definitely worth being here – it's all about presence.' He added: 'This is our tenth year doing Hillhead and I've already spoken to Abi (event co-ordinator) about coming back in two years' time, and I've asked for a bit more space.'
Attending his first-ever Hillhead show, Joe Allen, group sales and marketing co-ordinator with Duo Group, said: 'Being my first Hillhead, I didn't really know what to expect, but day one was great, it was very productive for us. We had a lot of customers, new and old, and a lot of enquiries have come from it. We also received much praise for our new stand, which has more space to show what the 'new Duo' is all about. Obviously, having recently become a Metso Outotec distributor, our main objective was to announce the partnership and make sure everyone knows who we are. There were a lot of Metso Outotec people from Finland and the US on the stand, and some amazing equipment, including a C150 jaw crusher and ES502 horizontal screen, both of which are off to Tarmac's Bayston Hill Quarry immediately after the show.'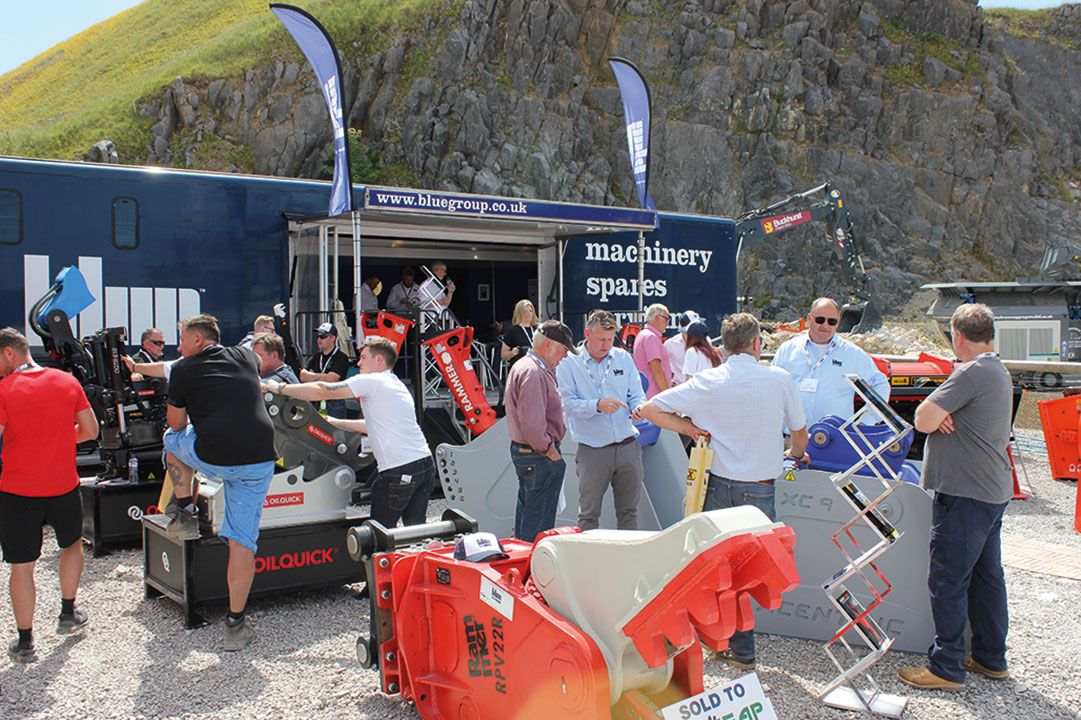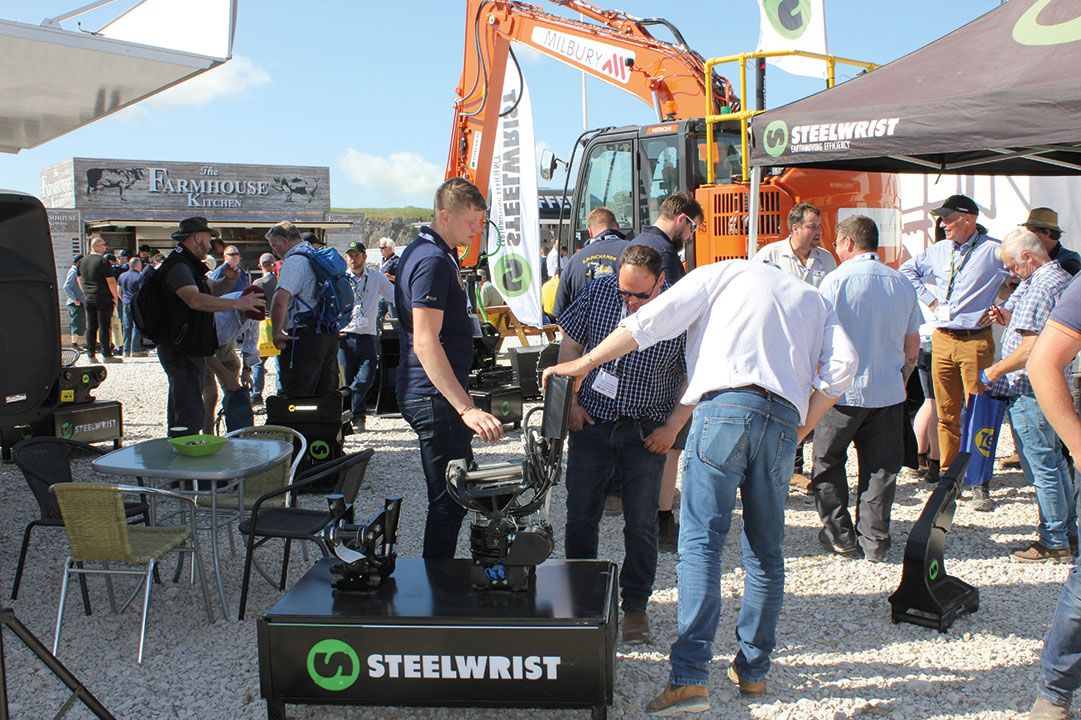 Describing attendance at Hillhead as a 'lifelong tradition', Goodyear OTR specialist Dave Goddard said: 'This really is best trade show for us, and this year has been no exception. We have had a great response from everyone, from plant drivers to customers, and dealers, and have met up with some people we haven't seen for four, six, even eight years. Not only that, but we've sold all 16 tyres on display, which pays for the stand.'
Dave McCracken, technical sales director with US-based Astec Industries, was equally delighted with the company's presence at Hillhead. 'We're aiming to push into the UK market and then use this as a bridge into the rest of Europe,' he said. 'Our live crushing and screening demos have definitely drawn the best crowds to the stand, including a good number of customers and potential distributor partners. Whilst all the units on display on the stand were pre-sold, we've picked up some good leads and enquiries for future sales.'
The final word on this year's show goes to Kim Dudley, regional manager for the UK and Nordics with Doosan Infracore Europe, who described it as one of the best Hillhead's ever. 'It's been a really good show and it's gone really well. We've sold machines from the stand, had a lot of enquiries and good feedback from customers, and met lots of old friends. The first two days were amazing, and although the third day was quieter, the quality of the leads was still very good. The great thing about Hillhead is that there are a lot of smaller customers out there who you would never get to meet unless you come to a show like this.'
The QMJ Group – the organizers of Hillhead 2022 – would like to express their gratitude to Tarmac Ltd for permission to use the Hillhead site. Also, with a plethora of services and facilities made possible by the generous support of the show's sponsors, QMJ would like to thank the following companies: Acorn, ATG, Atrax, BauWatch, BDS, DLL, Helly Hansen, Hitachi, LiuGong, Mecalac, Ninehundred Communications, Rokbak and Spillard.