25 Mar 2021
Pre-book your meetings with exhibitors and get ahead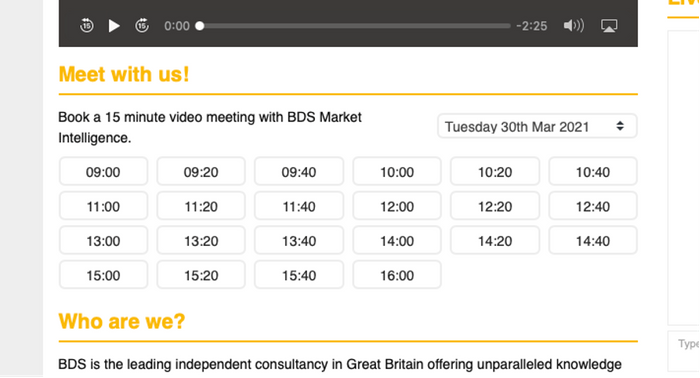 With the Hillhead Digital platform now open, and only five days to the live show days, it's your chance to get ahead and pre-book meetings with our 300+ exhibitors!

Make the connection by arranging a 15 minute one-to-one video call directly with an exhibitor on their virtual booth.
Booking your meeting is easy
When you visit an exhibitor's virtual booth you'll be able to simply book your meeting by clicking on one of the available timeslot buttons. You can select on which of the live show days you'd like the meeting to take place by using the date dropdown.
Confirming your booking
When you've selected a day and time slot you'll be prompted to enter a custom message to the exhibitor where you can let them know what you'd like to discuss.

Once submitted you'll receive confirmation of your meeting by email.
One-to-one video meeting
At the time of your booked meeting simply visit the exhibitor's virtual booth and click on the 'Join Voice/Video Chat'. After this just follow the on-screen prompts and your one-to-one video meeting will start.
Take the opportunity to forge new relationships and develop existing ones at Hillhead Digital!