22 Mar 2021
Explore the New Products Media Gallery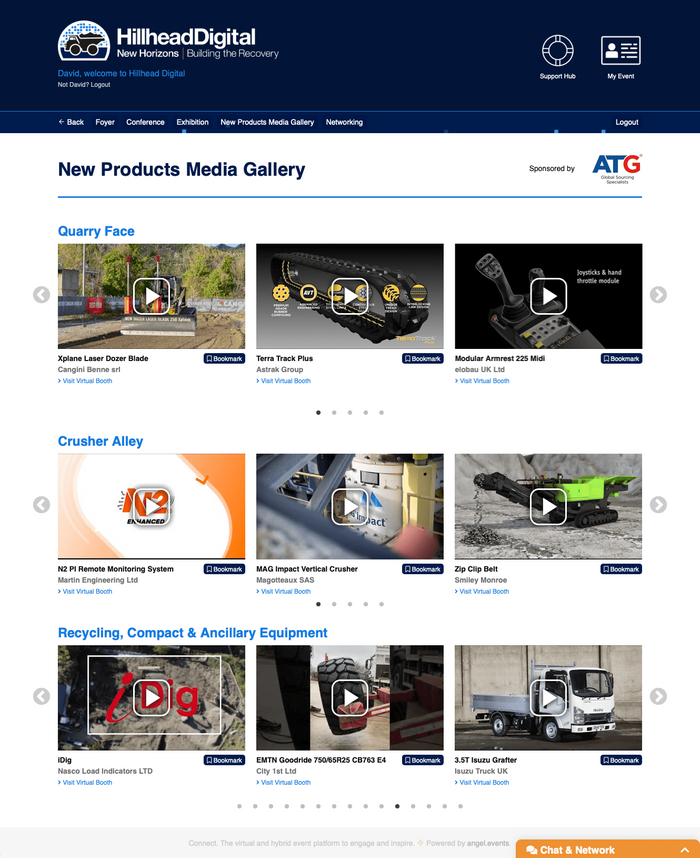 Featuring over 70 videos from Hillhead Digital exhibitors, the New Products Media Gallery (sponsored by ATG) showcases products launched since the last Hillhead show. Learn about the latest product developments and innovation that can make your business more productive and cost efficient going forward.
The New Products Media Gallery is separated into three sections to replicate the familiar Hillhead live demonstration areas:
Quarry Face
Large excavators and face shovels; hydraulic breakers; large wheel loaders; rigid and articulated dumptrucks; crushing and screening buckets from among others:
SMT GB (Volvo), Marubeni-Komatsu, Hitachi, Hyundai, Hidromek, Cangini Benne, Astrak Group, Indeco, Elobau, MB Crusher and Miller
Crushing and Screening
Tracked and skid-mounted crushers and screens; scalping grids and stockpiling conveyors; dust suppression solutions and remote monitoring systems from:
Wirtgen, Martin Engineering, Terex Finlay, Smiley Monroe, BPH attachments, Yudin, Ace Plant, Magotteaux, Rubble Master, Flexco, Acorn Industrial Services, Air Spectrum Environmental, Flexco and Bunting
Recycling, Compact & Ancillary Equipment
Specialist crushers, shredders and screens; mini-excavators, wheeled loading shovels and site dumpers; Skid steers; trucks; pavers and other ancillary equipment from:
Bomag, Yanmar, Takeuchi, Bobcat, Altrad Belle, Thwaites, Epiroc, Tennant, MDS International, Worsley Plant, Warwick Ward, Merlo, Herbst Machinery, Allube, MP Filtri, Terex Ecotec, Edge Innovate, Brigade Electonics, Dynapac, DAF, Isuzu Trucks, Weir Minerals, Kal Tire, City 1st, Volvo Trucks, Goldhofer, Motortronics, Disab and C-Scope.
Scroll through the videos and bookmark any of interest to add them to your personalized My Event section or just click directly through to their virtual booths to arrange a meeting for the live days.
Engage with the quarrying industry at the free two-day digital event, live on 30-31 March. Browse the latest products and services from over 300 leading suppliers, access over 60 seminars and build up your contacts through the networking portal.