Mineral Products Association
Stand: PB19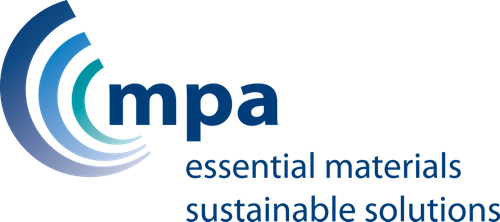 The Mineral Products Association (MPA) is the industry trade association for the aggregates, asphalt, cement, concrete, dimension stone, lime, mortar and silica sand industries. We have a growing membership of 520 companies and are the sectoral voice for mineral products. Our membership comprises the majority of independent SME quarrying companies, as well as the major international and global companies with operations in the UK.
With our stated aim in our Charter to be Driving Change…Raising Standards…Improving Perceptions, MPA represents the interests of its members and the wider industry with all levels of Government, regulators and an enormous range of other stakeholders. Our expertise and support to members spans health & safety, planning and resourcing, environmental, regulatory and technical issues at UK and European levels, transport, safeguarding and developing markets and market information, public affairs and communication, carbon reduction, biodiversity and restoration and much more.
Current initiatives include:
Fighting to ensure that the 'essential' nature of our industry is understood and retained.
'Vision Zero' – 'Safe & Well Everyday', the foundation for MPA's reinvigorated health & safety plan until 2025.
Our UK Concrete and Cement Industry Roadmap to Beyond Net Zero Carbon.
Championing Quarries & Nature, the industry's delivery of biodiversity and restoration.
Please visit us to learn more about any of our activities, to discuss your own interests and to find out if we can help.
Address
38-44 Gillingham Street
London
SW1V 1HU
United Kingdom