20 May 2022
Tesab to launch new hybrid electric jaw crusher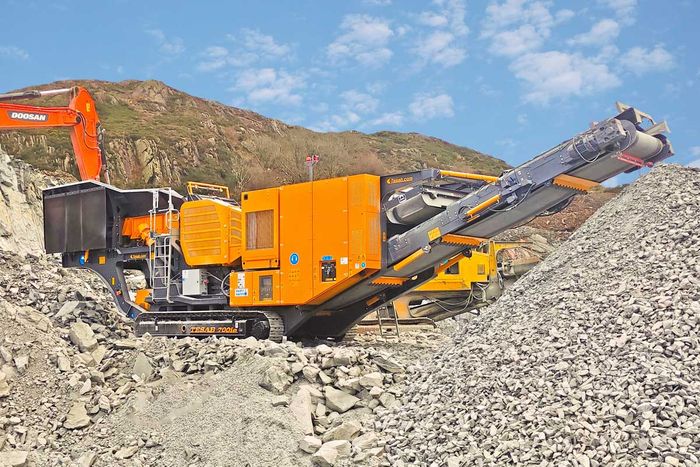 New fuel-efficient and cost-effective 700ie machine capable of producing up 350 tonnes/h
Tesab Engineering, the Co. Tyrone-based aggregate crushing specialists with 30 years' experience providing solutions to thousands of customers, will be officially launching their new 700ie hybrid electric jaw crusher at Hillhead 2022.
Based on the well-proven 700i model, the new 700ie hybrid electric jaw crusher is said to be a more fuel-efficient and cost-effective machine, whilst still being capable of producing up to 350+ tonnes/h like its diesel-powered equivalent.
The 700ie, which comes complete with an efficient all-electric drive with a three-year warranty on the main electric components, consumes less than 20 litres/h of fuel, with the option to work on mains electricity for even lower running costs.
Up to 33% more fuel efficient and offering up to 70% lower operating costs, the 700ie is packed with new features including reverse crusher operation and auto-unblock, a custom panel enclosure with integrated air-conditioning, and a Hitachi control panel with 10in display and mobile app and remote access.
Other notable features include: a large hopper and feeder system with 2° decline; a 110kW, variable-speed, 1,100mm x 700mm direct-drive crusher; a 225kW Cat C7.1 Stage-V engine; a removable genset with uprated alternator; a 55kW hydraulic power pack with auxiliary drive; and a 1,200mm discharge conveyor with soft-start protection.
Already widely respected for their range of heavy-duty, built-to-last crushers, Tesab have steadily expanded their range over the years, complementing their crushers with a wide range of screeners and Trackstack bulk-handling systems to provide customers with a complete solution for any job.