19 Apr 2022
Take control with the Hitachi ZW310-7 wheel loader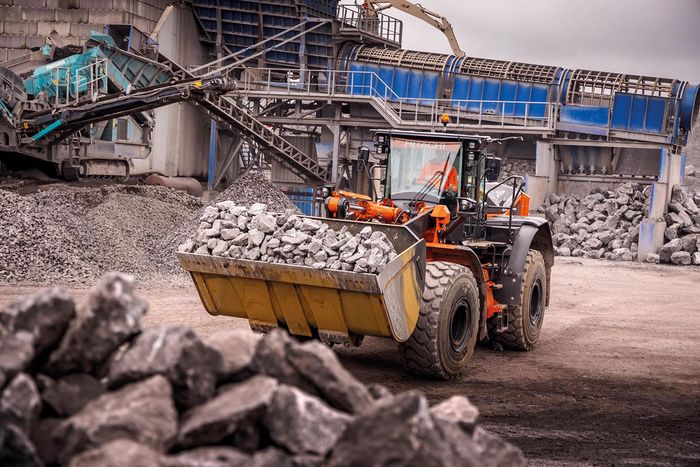 Hitachi to introduce larger next-generation model from their Stage V-compliant ZW-7 range
Hitachi is introducing a larger next-generation model from their Stage V-compliant wheel loader range. The ZW310-7 has been designed to put operators in complete control of their workspace, even the toughest job site conditions, with industry-leading safety features and unrivalled comfort in the cab.
To protect the operator and machine from potential hazards, the ZW310-7 allows a superior view from all angles, with excellent visibility to the rear and either side of the narrow engine hood. With the aerial-angle camera system, operators also have a 270° bird's-eye view of the job site, whilst the rear obstacle detection and warning system alerts them immediately if anything is close to the rear of the machine.
According to Hitachi, the ZW310-7's spacious, fully redesigned cab epitomizes the ultimate in comfort, with some of the lowest noise and vibration levels in the market. It is especially easy to use thanks to features such as an improved seat with mounted electric pilot control leavers, new monitor controller, and convenient side switch panel.
High levels of productivity are ensured by fast cycle times, high breakout force and loading capacity, and improved acceleration on inclines thanks to sensors installed on several machine components. Rev/min are automatically increased thanks to the auto power-up function, which maintains the machine's travel speed when moving uphill. As a result, the reduced cycle times enhance productivity and reduce fuel consumption.
Faster and more efficient short loading operations due to the Approach Speed Control feature will further satisfy owners' requirements. The new ZW-7 model also loads trucks more accurately, saving time and money, using the payload monitoring system. In addition, operators can monitor the fuel consumption thanks to the new ECO gauge and performance can be improved with several adjustable functions.
Ultra-reliable performance to significantly boost uptime is possible because the ZW310-7 is built with durable components such as the axles and frame, intelligent prevention systems, and easy maintenance features. This can be further maximized using high-quality Hitachi buckets, customized to suit the application, and robust ground-engaging tools that are easy to install and replace.
To support owners and operators throughout the lifecycle of the new ZW-7 wheel loader, Hitachi provide a wide range of after-sales services and access to vital data and tools. These include remote monitoring systems, Owner's Site and ConSite (part of Global e-Service) and the ConSite Pocket app, which help to monitor performance, track location, and plan maintenance.
'The new ZW310-7 wheel loader has been designed to give a powerful performance, low total cost of ownership and exceptional efficiency to European customers,' said product manager Bill Drougkas of Hitachi Construction Machinery (Europe) NV. 'Built to the highest quality standards, it will significantly boost productivity at busy quarries and large recycling plants and have a positive impact on profits.'
The organizers of Hillhead are delighted to announce Hitachi as the official Registration Sponsors for 2022. Join the Hitachi team on Stand Z3 at the 'Quarry Face' end of the site to find out more about their extensive range of excavators and wheel loaders. In the meantime, look out for further news about the company's latest product launches on the Hillhead website and in the Hillhead E-Bulletins.