25 Apr 2022
RMGroup to showcase impressive line-up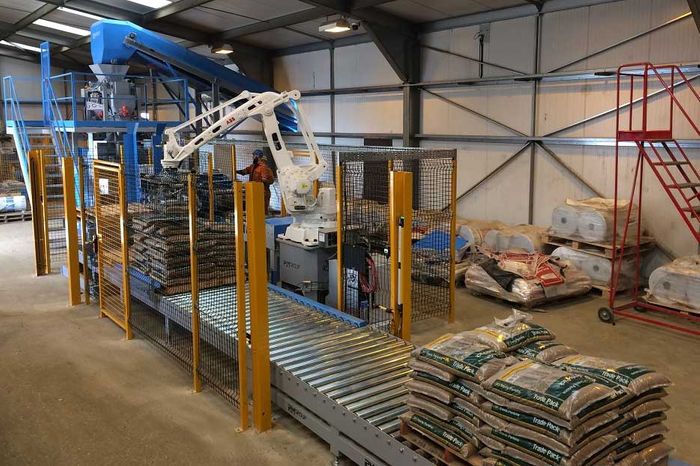 Taking centre stage will be the container-sized CTB-600 mobile bag-filling system for aggregates
Process, packaging, and robotic automation specialists RMGroup will be using Hillhead 2022 to showcase an impressive line-up of fixed/mobile bag filling and palletizing solutions, including bulk bag filling and material handling.
Central to the display will be RMGroup's latest mobile packaging system for aggregates. Housed within a 40ft shipping container, the CTB-600 bag-filling system comes complete with an ABB robot palletizing system, bulk hopper with in-feed conveyor and weighing system to process more than 16 tonnes of bagged aggregate an hour. System options in the mobile packaging range include either manual or automatic pre-made bag placement via RMGroup's new compact BP-600. As a unique, portable bag-filling solution, the mobile packaging system allows customers to pack at source, thereby reducing operational overheads and minimizing environmental impact.
In Hillhead's Registration Area, RMGroup will be demonstrating their popular BB-215 from their bulk bag filling range. Comprising a side-loading bulk hopper, in-feed conveyor, weigh platform, and control panel, the BB-215 is a robust bulk bagging machine designed to work with a variety of products, including the most abrasive. The demonstration will include the loading and filling process for one-tonne FIBCs, with this particular model including a skid frame, to allow ease of manoeuvrability on site and on uneven ground.
In anticipation of the event, RMGroup's Rosie Davies commented: 'We first exhibited at Hillhead in 2010. At that show we collaborated with JCB to demonstrate the packing capabilities of our mobile packaging line, the LTB 600. We couldn't think of a better show to introduce that model to the market, so will look forward to exhibiting the rejuvenated 'container' model in the mobile bagging range this year.
'Hillhead has always been an exciting show in our events calendar. The focus on quarrying and aggregates provides us with a great platform to showcase our range of solutions and products suited to the industry. Returning this June, our technical sales team looks forward to connecting with new and existing customers and discussing the capabilities of all the equipment on display. With more than 250 systems installed to serve the aggregate and building products industry, we can provide examples of solutions for the most challenging environments.'