13 Jun 2022
Parts protection: fighting off external attack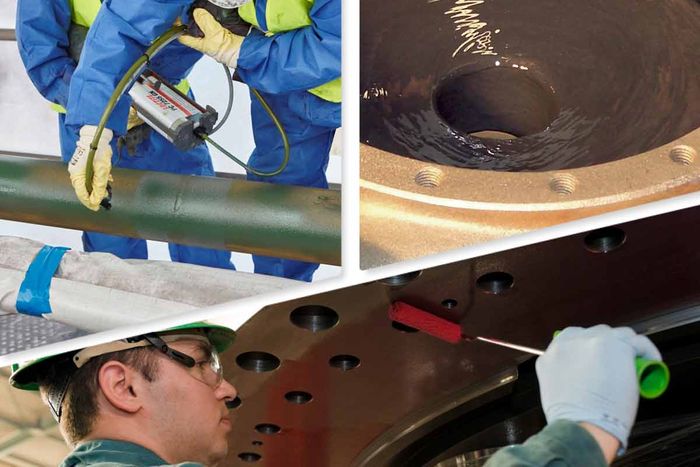 Henkel to showcase wide range of LOCTITE protective coatings for hostile industrial environments
Wear, abrasion, erosion, chemical attack, impact, and corrosion are common causes of failure of industrial equipment in harsh industrial environments. Often this equipment is very expensive so repairing and protecting these assets offers significant cost savings. However, traditional repair methods, such as hard metal welding or flame spraying, are also costly and limited to relatively small surface areas.
The cost-effective and more flexible alternative is the application of LOCTITE protective coatings and compounds that are easily applied to all surfaces, irrespective of size. There is no risk of heat stress during the application, and they provide the extra benefit of corrosion protection. Typical applications include the treatment of air ducts, pumps, heat exchangers, centrifuges, impellers, fan blades, cyclones, pipes, tanks, and retention areas.
The compound formulations include ceramic fillers that provide excellent adhesion and wear resistance. The products' key advantage is their ability to create a sacrificial and renewable working surface that protects the structural integrity of the original substrate.
The compounds are complemented by protective coatings which primarily protect against corrosion and chemical attack. As they do not contain ceramic fillers, they can be applied by a variety of methods to create a very smooth surface.
Collectively, these products can restore worn surfaces and extend the life of new and old parts, increase their efficiency, and minimize downtime. Their application saves costs by considerably reducing the need for part replacement and associated spare-part inventories.
In choosing the right product, the first consideration is particle size. To improve abrasion resistance, the particle size of the abrasive material and that in the protective compound should be similar, and the LOCTITE range offers grades from fine to coarse. The products also provide for a range of operating temperatures from –30°C to 120°C and some grades can be used up to 230°C; these special grades require post-curing to achieve their ultimate high-temperature performance.
Thanks to their special epoxy matrix the products are resistant to most types of chemical aggression and offer good protection against both freshwater and sea water, ammonium sulphate, and sodium hydroxide; special chemical requirements can also be accommodated.
Correct surface preparation is, of course, vital to the successful application of these products. It will improve the compound or coating's adhesion to the part, prevent corrosion between layers, and extend maintenance intervals. So, before treatment the surface must be clean and dry without corrosion or internal chemical pollution. A minimum surface profile of 75µm is recommended with a blast profile of class 2.5.
One of the top performers in the protective compound range is LOCTITE PC 7255, a low-friction epoxy that is sprayed on to the substrate and is, therefore, especially good for coating large surface areas and complex structures. It creates an ultra-smooth finish that is resistant to both acids and alkalis and protects against abrasion, corrosion and, in particular, chemical attack.
The durability of this ceramic-enforced epoxy coating has been demonstrated at Henkel's own manufacturing plant in Germany. After five years, the effects of acid, corrosion, and intense heat have had minimal effect on a flue gas whose inside surface was coated with this product to protect it against aggressive sulphur and nitrogen compounds as well as condensation water.
Before the application of LOCTITE PC 7255, it was common practice to shield the flue gas duct with sandwich panels, a method that was both complicated and costly. The process of rubberizing the surface is time-consuming and expensive as the material needed to be adapted to suit the design of the duct.
This is precisely where the protective compound proves to be particularly efficient and user-friendly. It is sprayed on easily and quickly creating a sacrificial layer that prevents wear and tear on the base material. And in Henkel's case, maintenance engineers were delighted to record that even with long-term exposure to extreme corrosion, the thickness of the coating and its Shore hardness had changed only minimally over time.
Parts protection will be one of the focus topics for Henkel at Hillhead 2022. A wide range of LOCTITE solutions for hostile environments will be featured, including adhesive gasketing that fills all voids to create a perfect seal between components, and composite pipe repair which can be undertaken without stopping production, making significant operational savings.