16 May 2022
New Enerpac tools and load skates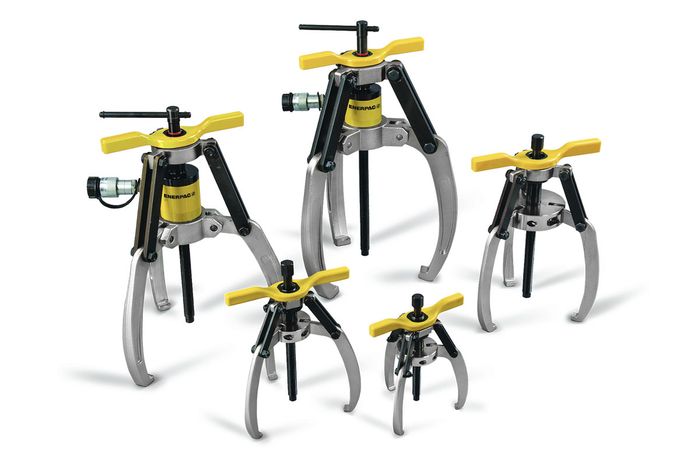 Company showing new cutting and pulling tools, torque wrenches, and wheeled load skates
Leading hydraulic tools manufacturer Enerpac will be announcing new cutting and pulling tools and load skates at this year's Hillhead exhibition. The company's stand will also feature torque wrenches, compact and high-tonnage cylinders, hydraulic pumps, and flange-spreading tools. Designed to reduce vehicle and plant downtime, Enerpac tools are easy to use and configure for quarrying and mining vehicle and equipment maintenance and repair.
The LGM-Series mechanical lock-grip puller is an ideal solution for pulling small-to-medium-size wheels, sprockets, bearings, and other similar shaft-mounted parts. The puller's self-centring closing system allows all jaws to move simultaneously, making it easy for a single operator to mount and operate the puller.
For heavy-duty bar cutting, Enerpac have introduced the EBE-Series portable electric bar cutter to quickly cut through bar up to 26mm in diameter without the need for an external hydraulic pump. The highly durable, long-lasting blades outlast angle grinders or saw blades, whilst user safety is enhanced with the controlled cutting process that produces minimal spark and vibration risk.
The new Enerpac MLS-Series wheeled load skates are a safe and stable option for machinery relocation and installation and are available in a wide range of individual load skate capacities from 3 tonnes to 35 tonnes. The stand will feature the 3-tonne capacity wheeled load skate and rotational wheeled load skate sets.
Other highlights on the stand will include the Enerpac range of steel and aluminium torque wrenches and low-profile cassettes, including the Enerpac HMT 13000 interchangeable torque wrench. In addition to the ubiquitous Enerpac hand pump, other pumps on show will include the E-Pulse electric pump and the battery-powered, portable, XC-Series hydraulic pump, which weighs just 9.9kg.
Hydraulic cylinders on the Enerpac stand will range from 10-tonne to 50-tonne capacity, and from low-height, compact, 13mm stroke cylinders up to 150mm stroke, double-acting, high-tonnage cylinders. For flange joint maintenance, Enerpac now offer Equalizer flange-spreading wedges, providing a simple way to hydraulically spread flange joints with a minimum access gap of 6.0mm, and certified for use in hazardous areas.