22 Jun 2022
McLanahan showcase UltraCRUSH and new partnership at Hillhead 2022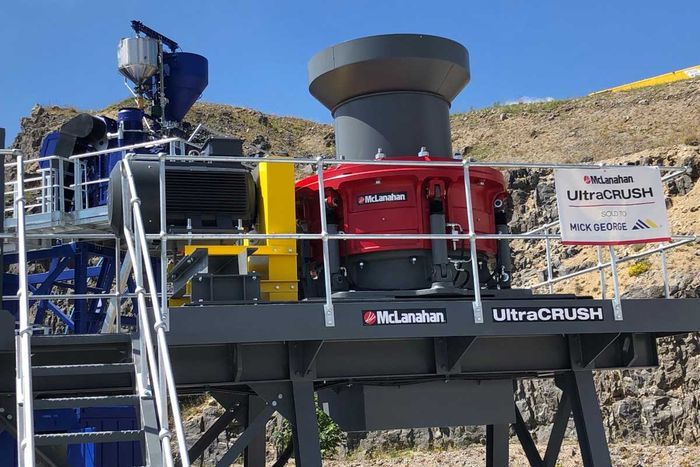 Company acquire CMB International and show new cone crusher
McLanahan are showcasing their UltraCRUSH modular cone crusher and the company's latest acquisition of CMB International Ltd on stand T1. With the recent acquisition, the CMB cone crusher joins McLanahan's well-established line of crushers available to the industry.
Mounted on a modular chassis, the UltraCRUSH provides a quick setup and easily moveable solution. The UltraCRUSH system arrives on-site in an almost fully assembled state. Once removed from the shipping container, it can be set into place, connected to an electrical supply and begin production. Its modular form makes it suitable for moving from one site to another to fit an operation's changing needs.
The addition of the CMB cone to the UltraCRUSH provides producers with a heavy-duty crushing system that requires minimal maintenance while producing high outputs. The CMB cone features a hydraulic adjustment system that allows the operator to rapidly change the discharge setting with little interruption to production. In addition to the adjustment system, the CMB cone also features hydraulics for a tramp metal release, automatic reset and an unblocking feature that can clear the crushing chamber in a matter of minutes.
With multiple sizes available, all CMB cone crushers come standard with the following features:
high outputs of ideal product shape
unattended operation
fast and simple adjustment
minimal maintenance
large unobstructed feed opening
ability to accept unscreened feeds
adjustments that can be made during crushing process
compact lubrication system.
While the CMB150 cone features on the stand at Hillhead, the CMB185 and CMB225 are also available to producers who are looking for a larger unit with higher capacities and outputs. These larger units feature a hydraulically tensioned wedge that provides the correct constant crushing pressure for enhanced performance and productivity. Longer strong rams allow for larger settings and thicker manganese, providing more crushing hours and production while limiting unwanted downtime. The CMB185 and CMB225 also feature an increased internal clearance for ease of material discharge, which minimizes material buildup and reduces potential for damage.
The CMB cone is the first product to be showcased as a result of the addition of CMB to the McLanahan family of companies. Additional crushing units, screens, feeders and conveyors from the CMB brand will be added to McLanahan's product line as a result of the acquisition.