12 Jul 2022
McLanahan put on strong showing at Hillhead 2022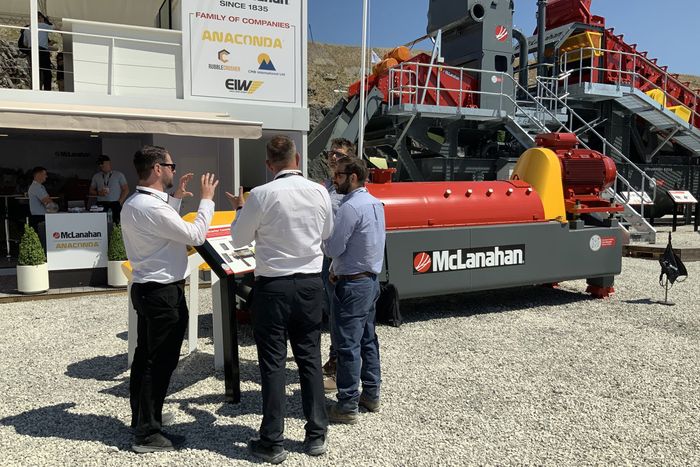 UltraWASH modular wash plant forms backdrop to company's largest Hillhead display to date
McLANAHAN, along with two of their 'family of companies' brands, Anaconda and RubbleCrusher, exhibited at Hillhead 2022 with their largest display at the show to date.
The space was used to showcase the McLanahan UltraWASH modular wash plant, the UltraCRUSH with the newly added CMB cone crusher, and the Decanter Centrifuge.
Showcased in Europe for the first time, the UltraWASH 6206 is capable of being configured to produce up to three clean aggregate products and two washed sands and is part of McLanahan's complete line of modular systems. The UltraWASH served as a backdrop to the stand, showcasing McLanahan's washing expertise.
The Decanter centrifuge was launched on the stand as a new solution in McLanahan's water and tailings management product line. Providing an alternative to filter presses and belt presses, the centrifuge can help eliminate settling ponds, improve water recovery, and assist in meeting environmental regulations. Hillhead was the first time McLanahan had displayed the centrifuge at a trade show event.
The CMB cone crusher was also displayed on the stand at Hillhead. Mounted in the modular UltraCRUSH system, the cone crusher helped showcase the recent addition of CMB International to the McLanahan family of companies.
The acquisition of CMB International was finalized the week before Hillhead, making the event the perfect debut for the new brand. In addition to CMB, McLanahan acquired the company's RubbleCrusher brand, which was also on display at Hillhead.
At the top of the quarry, the RubbleCrusher track and mobile units were on display, while one of the company's mobile units operated in the demo area just behind the stand. RubbleCrusher will make their North American debut with the McLanahan family of companies at ConExpo in Las Vegas in 2023.