11 May 2022
Liebherr go large at Hillhead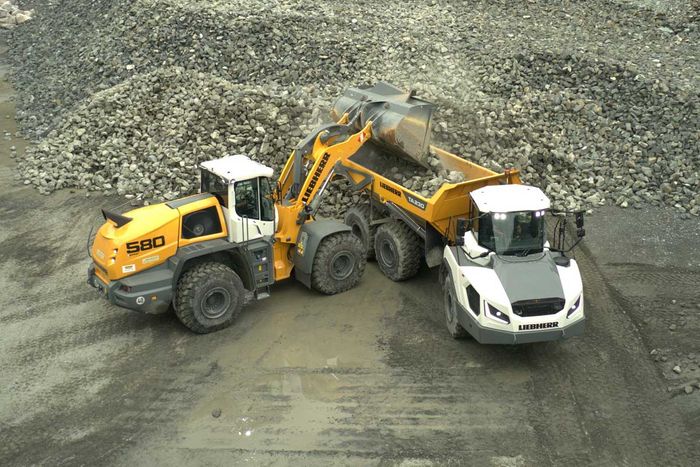 Company to showcase ADTs, wheel loaders, dozers, excavators and concrete plant and equipment
Liebherr return to Hillhead to underline their credentials as the 'first choice' manufacturer with a line-up of quarry equipment that marries engineering excellence to market-leading fuel efficiency.
Spearheaded by the award-winning TA 230 articulated dumptruck, the comprehensive collection showcases wheel loaders, dozers, and excavators, as well as associated concrete batching and mixing equipment. And Liebherr's reputation as a leader in reducing customers' fuel costs takes on added significance in the wake of a double whammy of rocketing prices and the end of the rebate for red diesel used in construction equipment.
The TA 230 is making its Hillhead debut but has already made its mark with UK customers via several significant sales across the country. Scottish contractor Edward MacKay, for example, described it as 'one of the best-looking and well-engineered trucks on the market'. Elsewhere, judges for the Red Dot Award for design excellence praised the 'unique, edgy and yet dynamic lines' that impressed a jury of international experts.
Carrying a 28-tonne payload, the driver views the working environment through panoramic windows and over a short, inclined bonnet for the best outlook of the driving, working, and articulated joint area. There is an array of assistance systems such as hill start, speed retention, and automatic traction control, whilst speed-dependent steering gives precise manoeuvring at low speeds and sensitive control at higher speeds.
Liebherr's XPower machines are the benchmark for high-production wheeled loaders in quarry applications. Power-split transmission as standard manages the interaction of the hydrostatic drive and mechanical drive, continuously adapting the mixing ratio of the two drive paths without noticeable switching and without interrupting traction. That means the power adapts to the specific requirements of the operation to achieve maximum productivity.
The Liebherr Power Efficiency (LPE) 'intelligent' system plays a key role in the drive system. The most important components, such as engine, power-split transmission, and operating hydraulics, are co-ordinated to achieve high levels of efficiency and significant fuel savings; Liebherr's own comparative tests have shown that XPower wheel loaders require up to 30% less fuel than their conventionally driven counterparts.
The hydrostatic drive system pioneered by Liebherr is installed on all Generation 8 dozers and guarantees that each machine achieves impressive productivity and class-leading fuel economy but without affecting performance. A newly designed cab for G8 machines means the operator remains comfortable and productive during long shifts, whilst a choice of blade configurations and options will equip the machines for any application or operating environment.
Liebherr excavators have a well-earned reputation for reliability in demanding applications, which do not come much tougher than quarries where abrasive materials, dust, and mud are part and parcel of the operating environment. Liebherr's engineering and sales teams will find the perfect match of machine and front-end equipment to handle any material.
There is a huge choice of machine variations in the 20-tonne to 104-tonne range and all arrive work-ready with boxing ring, LEDs, re-fuelling pump, and auto-lube as standard. Fuel tanks are larger than those on competitors' machines which means less downtime for refilling.
Liebherr have been developing their expertise in electric crawler excavators for many years and recent development has seen the introduction of the zero-emission R 976-E and R 980 SME-E models to replace the ER 974 B for quarry extraction. Developed and produced by Liebherr-France SAS, they are not simply converted diesel versions, but excavators and electric power systems designed entirely by Liebherr.
Highlighting products further along the production chain is the LCM 1.0 concrete batching plant combining solid construction, cost-effective transport and assembly, and a strong price/performance ratio. Equipped with a powerful ring-pan mixer and producing up to 60 cubic metres of fresh concrete per hour, the entire plant is designed to give customers efficiency and a long service life but with a sensible price tag.