04 May 2022
Hitachi to highlight benefits of new ZW-7 wheel loaders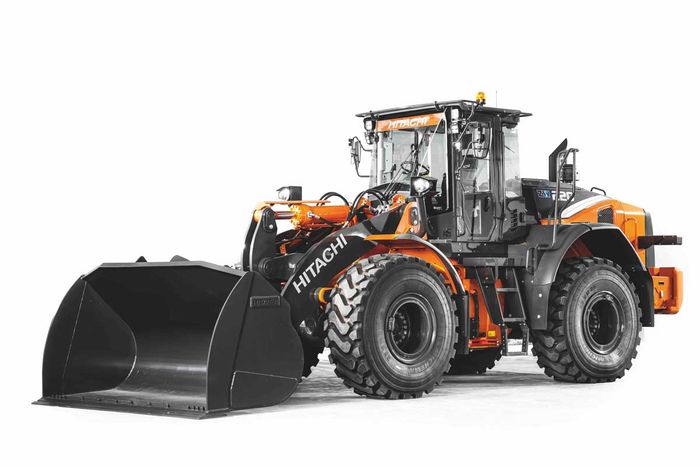 Company using show to showcase its first Stage V-compliant ZW220-7 wheel loader
HITACHI will be introducing their first Stage V emission-compliant wheel loader – the new ZW220-7 – which has been designed to put operators in complete control of their workspace with industry-leading safety features and unrivalled comfort in the cab.
Described as the safest machine in the market, numerous safety features can be found on the ZW220-7, including all-round visibility and intelligent systems. With the machine's aerial angle camera system, operators have an exceptional 270° bird's-eye view of the job site, whilst the rear obstacle detection and warning system alerts them immediately if anything is close to the rear of the loader.
According to Hitachi, the ZW220-7 wheel loader sets the standard for comfort, with some of the lowest noise and vibration levels in the market. It is also said to be easy to use thanks to features such as an improved seat with mounted electric pilot control levers, a new monitor controller, and a convenient side switch panel.
Hitachi say owners will be able to increase their profits due to the impressive fuel economy and efficiency of the ZW220-7, whilst faster and more efficient short loading operations thanks to the approach speed control feature will further meet operational requirements.
The new ZW-7 model also loads trucks more accurately, saving time and money, using the payload monitoring system. In addition, operators can monitor the machine's fuel consumption thanks to a new ECO gauge and performance can be improved with several adjustable functions.
To support owners and operators throughout the lifecycle of the new ZW-7 wheel loaders, Hitachi provide a wide range of aftersales services, and access to vital data and tools for effective machine management.
These include remote monitoring systems, Owner's Site and ConSite (part of Global e-Service), and the ConSite Pocket app, which help to monitor performance, track location and plan maintenance.
'Many years of extensive research have contributed to the development of the ZW-7 range to ensure that it meets the specific demands of European customers, from small business owners to large fleet contractors,' said Bill Drougkas, wheel loader product manager at Hitachi Construction Machinery (Europe) NV.
'As a result, we believe it offers superior experience in the cab and exceeds expectations in terms of efficiency and performance. By working in partnership with our customers – providing industry-leading equipment, innovative technology and wide-ranging aftersales support – we can help them to create their vision.'