20 Apr 2022
Herbst introduce the Agri Crusher 900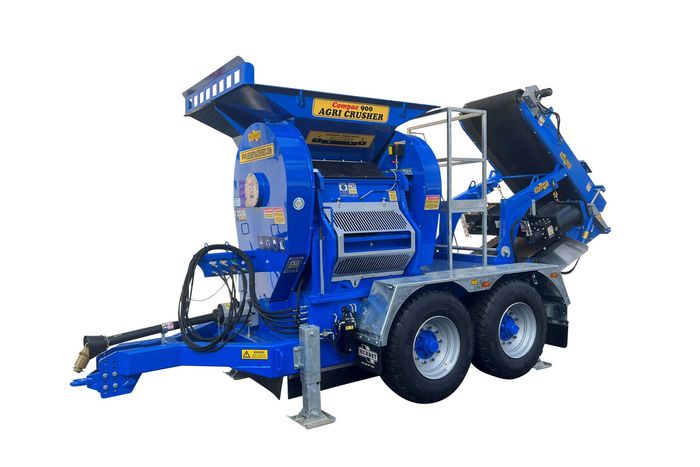 Following the success of the original Agri Crusher 700, Herbst will be launching its bigger brother
Herbst Machinery Ltd will be launching a new product – The Herbst Agri Crusher 900 – to complement their existing range of screening and crushing equipment. Developed from the original Herbst Agri Crusher 700, a tractor PTO-powered jaw crusher (700mm x 400mm) that was launched at Hillhead 2014, the new model follows on from the success of this machine and due to customer demand.
As suggested, the new Agri Crusher 900 (AG900) comes with a larger jaw size of 900mm x 450mm. The heavy-duty jaw chamber with its wider opening gives improved performance and significantly higher output rates. The crushing chamber provides more power and capability when processing large pieces of demolition material and also offers highly effective performance in rock crushing applications, with outputs in excess of 100 tonnes/h. Crushed material size (40mm to 125mm) is easily adjusted by hydraulic hand pump.
Owing to its size and high output capabilities, other features of the AG900 include: two-axle running gear, to improve stability and braking efficiency on the road for a machine that weighs approximately 12,000kg, depending on specification; a wider discharge conveyor which has also been extended in length to facilitate the higher throughput rates, with stockpile height increased to 2.5m; and HD stability jack legs with lock valves, to ensure the machine is level and stable when working.
The simple features of the Agri Crusher have also been maintained. Material is fed directly into the hopper, with the agricultural tractor PTO driving the crusher directly and the tractor hydraulics powering the conveyor belt etc. The crusher rev/min indicator, inspection platform, hydraulic braking, and LED road lights all come as standard on the new machine.
Herbst Machinery say the simplicity of the AG900 allows for straightforward service and maintenance. And with the correct setup on the tractor PTO speed, fuel efficiency can be optimized, making the AG900 a very cost-effective option for crushing.