27 May 2022
First time at Hillhead for Omega Crushing and Screening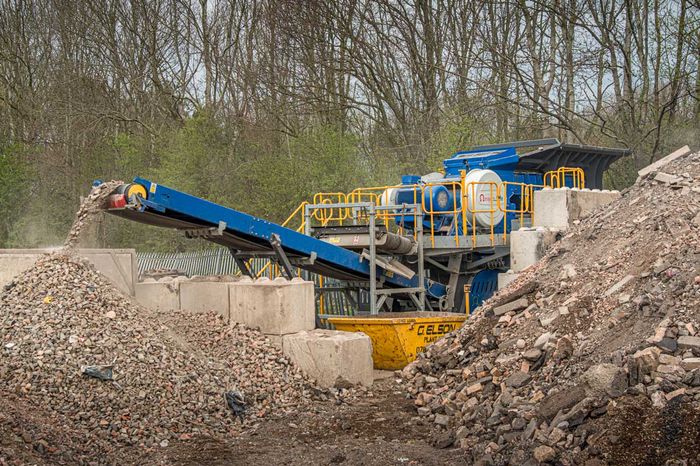 Northern Ireland-based manufacturer to exhibit plug-in, dual-power, electric-drive jaw crusher
Hailing from Co. Tyrone, Northern Ireland's 'home of crushing and screening', and exhibiting at Hillhead for the first time, Omega Crushing and Screening have developed a range of plug-in, dual-power, electric-drive jaw crushers which deliver reliability, fuel savings and low/zero-emissions operation.
Omega Crushing and Screening are among a number of companies exhibiting at the show with Invest NI, Northern Ireland's regional business development agency operated by the Department for the Economy.
With other manufacturers now offering diesel-electric hybrid machines, Omega have chosen to take the next step in this direction and have made their offering fully electric. Their crushers can be plugged into the power grid and run without any diesel power input.
Alternatively, when an external power source is not available, the wheeled and tracked models have a dual-power option. This means the machines can run off an onboard 220kVa powerpack with a Stage V/Tier 4- Deutz engine.
Taking pride of place on the stand will be the J1065S – the static model from Omega's jaw crusher range. The J1065S consists of the J1065 jaw crusher fitted in a modular assembly that includes a vibrating feeder with stepped grizzly section and galvanized walkways and handrails. The J1065S is suited to applications such as municipal recycling and C&D waste recycling, or can be used as part of a quarry or mine installation. The plant can even be set up inside a building, thanks to its ability to run emission-free on mains power.
Omega's machines all use the J1065 single-toggle jaw crusher unit. The J1065 has a large feed opening of 1,000mm x 650mm (39.4in x 25.6in), is driven by a 90kW (121hp) electric motor, and uses a simple drawback tensioning system. Other key features include the heavy-duty shaft equipped with premium bearings, the large jaw ejector cylinder, and the bolted mainframe, which provides strength and durability. The crusher achieves an output of approximately 200 tonnes/h.
Omega Crushing and Screening sales director Colin Daly said: 'We are delighted to have the opportunity to exhibit our product to our home market. The J1065S static electric jaw crusher offers various benefits to users in sectors from recycling to quarrying, including emissions-free operation, reduced fuel costs, and the ability to run at maximum efficiency in any climate. Hillhead will provide an excellent opportunity for us to show the strengths of our crusher range to the industry.'
Omega marketing manager Aine Kelly added: 'We are very excited to be exhibiting at Hillhead, having not had many opportunities to meet our customers face-to-face over the last two years. The UK and Irish markets are very interesting for us, and we are looking forward to meeting many new and existing customers.'
Omega Crushing and Screening were founded by their three current directors, Colin Daly, Anthony Carlin, and Robert Douglas. Sales director Colin Daly has spent 25 years in the industry selling crushing and screening equipment, whilst technical support director Anthony Carlin and production director Robert Douglas both gained an in-depth knowledge of the technical aspects of the equipment through many years spent in service roles in the field. The team also operates Northern Crusher Spares, providers of spare parts to the crushing and screening industry worldwide.
The Omega project was conceived when the team became aware of an interest in the market for a more simply designed machine which contained fewer complex electronic and hydraulic components, and which would be straightforward to both operate and maintain.
While the Omega machines themselves are powered by either the mains electrical supply or an on-board generator, all of their main components are also electrically driven, such as the head and tail drums of the conveyors and the motors that run the feeders.
Elaborating on Omega crushers' simple design, Mr Carlin said: 'Many quarry machines today have become very high-tech, whereas the user often wants a simple, user-friendly machine. The Omega control panel is very straightforward – there are no parameters or PLCs that you need to look at, and it uses a three-phase electrical system which is quite easy for electricians to work on. We have also done away with the complicated hydraulic toggle tensioning system on the crusher and gone back to the single drawback-rod tensioning system. This combined with hydraulic wedge adjustment makes it simple and reliable.'
In addition to the static J1065S, the Omega range also currently includes the J1065M – an easily transportable, wheeled model; and the J1065T – a tracked machine.
The wheeled J1065M has the benefit of being easily moved from site to site. Weighing 32,000kg and with transport dimensions of 12.16m (39ft 10in) by 2.55m (8ft 5in), it can be transported like a normal trailer, without the need for a permit.
The most recent addition to the line-up is the J1065T tracked crusher. Weighing 30,000kg, the J1065T features a 3.8 cubic metre, hydraulic folding, Hardox-lined hopper; a 900mm (35.4in) discharge conveyor; and a 600mm (23.6in) fines conveyor. The main conveyor can be raised and lowered hydraulically for rebar clearance and is fitted with an overband magnet separator.
The introduction of a second jaw crusher model is scheduled for late 2022. Based on the same design as the J1065, the J1275 will have a larger 1,200mm x 750mm (47.2in x 29.5in) jaw opening, a more powerful 110kW (148hp) drive motor, and will be part of a machine weighing 48 tonnes.