16 Jun 2022
Evolution on display at Renault Trucks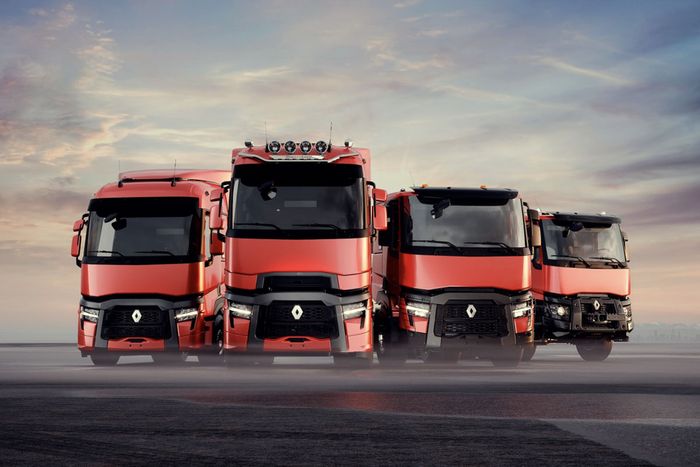 Company to showcase the depth and breadth of its construction range at Hillhead 2022
Renault Trucks have announced their return to Hillhead 2022 with a line-up of three vehicles that showcase the breadth and depth of their highly acclaimed construction range – a C460 8x4*4 Tridem, a T480 6x2 tractor unit with mini mid-lift, and an L4H2 Renault Trucks Master Red Edition with crew cab conversion.
Renault Trucks offer a fully integrated service for all sectors of the construction, quarrying, and recycling industries, for both on- and off-road applications. The show offers operators the ideal opportunity to discover more about the first-class service support from the Renault Trucks dealer network, as well as to view the company's new 'Evolution' range, which features improved driving comfort, on-board environment, safety, and productivity.
Visitors to the Renault Trucks stand will see a 32-tonne C460 8x4*4 Tridem with a PPG aluminium tipping body and EdBro tipping gear for aggregate applications, featuring a Day Cab including n/s vision window and with CLOCS-compliant safety systems. One of the most manoeuvrable vehicles on the market with a steerable axle capable of carrying up to 9 tonnes and a turning radius up to 15% less than a standard 8x4, the C460 Tridem with retractable rear axle offers flexibility to access sites not always accessible by an 8-wheeler.
The Renault Trucks C Tridem is powered by the 10.8-litre, six-cylinder DTI11 in-line diesel engine, with common-rail high-pressure fuel injection, and overhead camshaft.
A further draw to the Renault Trucks stand is a 13-litre T480 6x2 tractor unit with mini mid-lift, ideal for aggregate or liquid applications, with a factory-fitted PTO and wet kit. Fitted with smaller 17.5in wheels on the mid-lift axle, the Renault Trucks T MML is up to half a tonne lighter and offers significant payload advantages for cost-conscious operators in agricultural or quarry work.
Also being showcased on the stand is a 4.5-tonne L4H2 Renault Trucks Master Red Edition with crew cab conversion by Minibus Options that seats six, including the driver, striking in black metallic pearlescent paintwork. Equipped with twin tyres for heavy loads and towing, the rear-wheel-drive Master Red Edition offers improved off-road manoeuvrability for site work. Performance comes from the efficient, twin-turbo, four-cylinder EVI diesel engine that delivers maximum power of 165hp at 3,500 rev/min, with maximum torque of 380Nm between 1,500 and 2,750 rev/min, mated to a heavy-duty six-speed gearbox. Spec'd for productivity and driver comfort, the Red Edition crew cab features a driver's seat with lumbar adjustment, passenger double seat with folding central seat backrest and fold-up shelf, and additional under-seat storage compartment.
Throughout the Hillhead event, experts from Renault Trucks and local dealer JDS Trucks & Vans will be on hand to offer advice and detailed information on vehicles and enhanced transport solutions.