16 May 2022
Celebratory showcase from CASE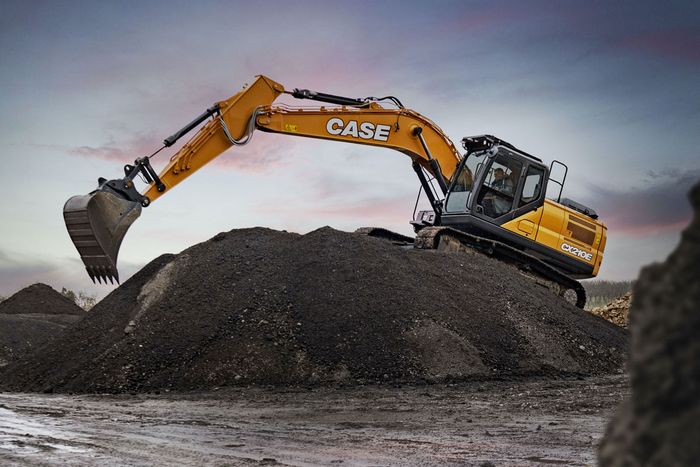 Line-up to include 10 models from new E-Series crawler excavator and D-Series mini-excavator ranges
Visitors and the media are invited to visit the CASE Construction Equipment stand to explore the company's 2021–22 machine launches and to celebrate CASE's 180th anniversary. Experts will be on hand to answer detailed product questions, including aftermarket specialists to explain the benefits of CASE Service Solutions and financing options.
According to Joseph O'Grady, CASE Construction Equipment's business director for Northern Europe, the stand will offer the first post-pandemic opportunity to see the breadth and depth of the CASE machine and solutions range: 'We're excited to be at a live event where our customers and media partners can experience the E-Series crawler excavators, the SV-Series backhoe loader, the G-Series wheel loader, and the recently launched D-Series mini-excavator range.'
The line-up will include three excavators from the E-Series crawler excavator range and seven models from the D-Series mini-excavator range, including one of the new electric machines. This 2022 excavator line-up will be joined by an SV-Series backhoe loader and G-Series Evolution wheel loader, both launched in 2021, alongside a skid-steer and compact track loader.
So that customers and journalists can fully appreciate the power and efficiency of CASE excavators in action, the static displays will be complemented by a CX300E crawler excavator working at the quarry face. Product experts and experienced operator trainers from CASE will be on hand to answer questions about the features of the machines on display and how they perform.
With the recently launched D-Series mini-excavator range complementing the E-Series crawler excavators launched in March 2022, CASE say the line-up features unrivalled agility and versatility, offering a machine optimized for every application. As well as the larger the CX300E in action in the quarry, the static displays will include the CX130E, CX210E, and CX250E models.
On display for the first time in the UK, the seven CASE D-Series mini-excavator models will be the CX12D, CX19D, CX25D, CX35D, CX50D, CX65TR, and the CX15EV electric mini-excavator. Manufactured at dedicated European plants, the new D-Series machines are said to benefit from the synergies of innovation, technology, expertise, and production that follow the acquisition of Sampierana by CNH Industrial in 2021.
Notable in the Hillhead line-up are the uniquely sized 1.2-tonne CX12-D, the 2.5- and 3.5-tonne CX25D and CX35D which offer medium capabilities, and the two-piece boom CX65TR that delivers power and flexibility.
Joseph O'Grady concluded: 'Hillhead 2022 presents an opportunity for us to celebrate the continuation of CASE's 180 years of innovation with live demonstrations of our latest market-leading machines to customers and the media, alongside learning from CASE experts about the extensive aftermarket solutions that keep these machines in optimal condition.'