22 Jun 2022
CDE announce after-sales partnership with Nordic Bulk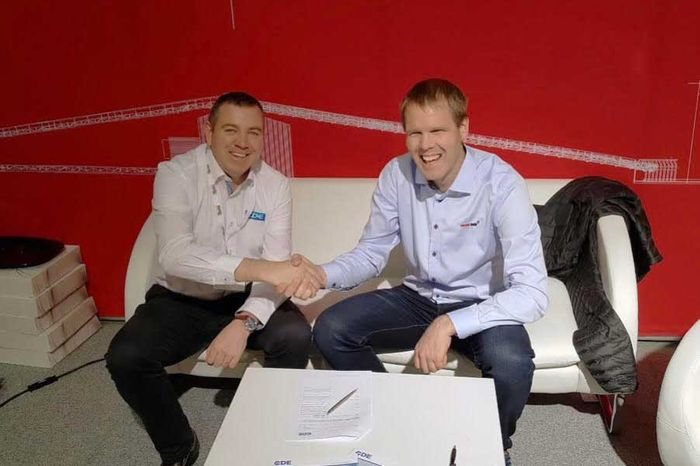 Wet-processing firm joins forces with Nordic Bulk to maximize productivity and minimize waste
CDE, a leading global provider of wet-processing solutions for the natural processing and waste recycling sectors, have announced that their after-sales division, CustomCare, has partnered with Norwegian firm Nordic Bulk AS to offer a responsive, proactive and preventative after-sales service for customers across Scandinavia.
Nordic Bulk AS are Norwegian suppliers of bulk material-processing plants operating in the mining and aggregates industry in Nordic countries. With 30 years of operational experience, they design and deliver turnkey projects with technology of the future. The company supports customers with a full warehouse of wearable parts and a service department with dedicated staff.
CDE and Nordic Bulk have worked together on a number of projects over the years in Iceland and Norway, resulting in a drive to expand the after-sales care offered to existing, new and prospective customers across the Nordic region.
With the increased demand across Scandinavia, CDE recognized the requirement for more engineers on the ground and the holding of spare parts in market to ensure timely delivery and a reliable after-sales service.
Having already formed a strong working relationship, CDE are confident in Nordic Bulk's ability to deliver a high standard of aftercare on their behalf.
CDE's CustomCare team supports customers in achieving and maintaining optimum efficiency in the running of their plants. It works collaboratively with customers to ensure maximum plant efficiency and uptime.
As part of the new partnership, CDE are working alongside Nordic Bulk to provide extensive and ongoing training to immerse their service engineers in CDE's method of service and help the team gain a deeper understanding of the technology.
As a result, customers in Nordic markets can now expect an even faster service turnaround and quicker delivery of spare parts, as and when required.
Martin Jackson, head of CDE CustomCare, says the partnership will strengthen the service for their customers in the local market: 'It's been a pleasure working with Nordic Bulk. We are likeminded in the sense that we both put our customers at the centre of everything we do, so it has been very easy to build on our relationship. With over 60 years of experience combined, we are confident this will translate to exceptional service for our customers across the region.
'The collaboration with Nordic Bulk will not only benefit existing customers, but it will give reassurance to prospective customers in the Nordic markets that we are dedicated to delivering first-class after-sales service in a timely manner.'
Eunan Kelly, CDE's head of business development for north-west Europe, added: 'For us, this partnership made complete sense. We've been working on projects with Nordic Bulk for several years now and really admire their dedication to both their own customers and how that has also been extended to ours. We've built a lot of trust with Nordic Bulk and this partnership was a natural progression in our relationship.'
Both CDE and Nordic Bulk recently invited customers in the market to an event at Nordic Bulk's headquarters, Stavanger, to outline how the partnership will benefit their operations.
Eunan continued: 'We went into great detail about the new partnership and how it will ensure a responsive after-sales service. This was then followed by a tour at one of our flagship project sites, Velde AS, to showcase the positive outcomes of our working relationship. This partnership is testament to the commitment of our pioneering customers, those who have adopted and invested in CDE wet processing technology throughout Norway over CDE's 30 years in business.'
Nordic Bulk's CEO Peder Egeland said: 'CDE are a key partner for us to exceed our customers' expectations delivering advanced and effective washing processing plants. Together we maximize customers' resource yield and minimize waste.
'CDE have provided us with comprehensive and detailed training on their products and delivery of service so that we can provide customers with top-quality after-sales service. We have seen the support that CDE provides to customers and their dedication in producing quality material, making it a straightforward decision, and we are excited to work together to enhance the after-sales service.'
As well as the CustomCare partnership, CDE and Nordic Bulk will continue to deliver new solutions to customers across the Nordic market, which will include the installation of a major new waste recycling plant in Norway.