03 May 2022
BSP Hydraulics celebrate 30th anniversary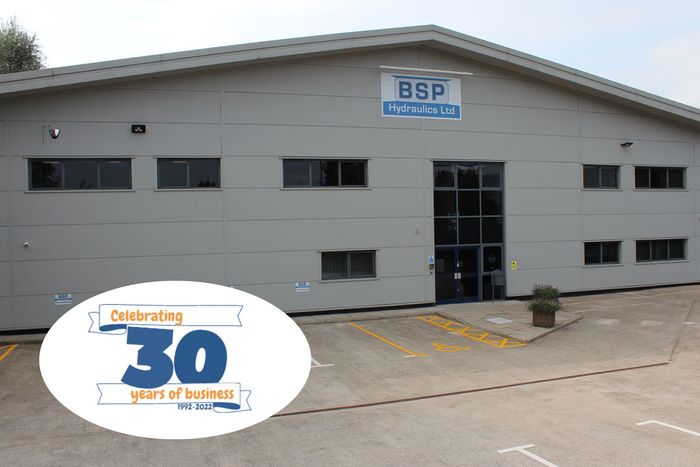 Hillhead 2022 marks a milestone celebration for company after three decades in business
Celebrating their 30th year in business, BSP Hydraulics have established a reputation for being one of the most accomplished hydraulic distribution companies in the UK. Based in Normanton, West Yorkshire, the family-owned firm specializes in the supply and service of equipment for the industrial, mobile plant, and truck sectors, and has developed a wealth of technical expertise in premier partnership with Parker Hannifin, as the sole UK distributor for Hydro Leduc, and as an authorized distributor for Bezares and Kazel.
Originally founded by Brian Slack in 1992, Doug and Karen Conyers took over the reins in January 2004. Fast-forward 18 years and BSP have come a long way. Having started with just three people and a 1,500 sq ft facility, BSP now occupy 12,000 sq ft and employ 14 people. Moreover, their stockholding has increased by 1,500%, allowing them to offer next-day deliveries and shorter lead times.
Managing director Doug Conyers said: 'BSP have worked extremely hard over the years to improve their market presence in an ever-growing industry. Our team's wealth of technical knowledge is top class and really does separate us from other companies within our industry. There is nothing we don't cover when it comes to hydraulics and our varied technical knowhow enables us to help customers quickly and efficiently.'
And BSP say they are not planning on slowing down anytime soon. Over the years they have introduced an in-house repair and service facility as well as a hose and fittings division, allowing them to provide complete hose assemblies.
In 2020, the company introduced the UK's first Parker Store Truck Hydraulics Centre, and more recently developed its digital presence and made its website more comprehensive and user-friendly. This year BSP have further widened their offering by venturing into mobile hydraulic hose replacement and will also be introducing to the UK market to their electrification and hybrid product range through a series of product showcase open days.
Finance director Karen Conyers said: 'There have been many peaks and troughs over the years, but we have maintained our hard work and determination throughout, and with the combined efforts of the team we are very hopeful of the future ahead. It's been an exciting time being part of a growing and developing business and I'm optimistic the next steps for BSP will be just as fruitful.'