16 May 2022
Astec to showcase over a century of experience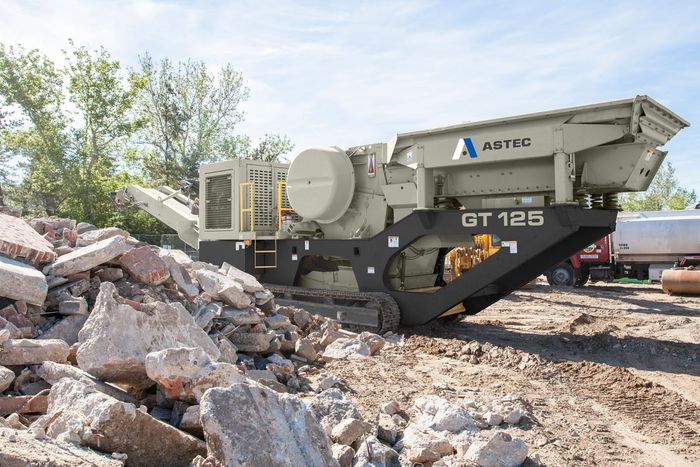 Consolidation of legacy brands part of drive to grow company's market presence globally
Industry veterans Astec Industries are bolstering their established international presence by showcasing their mobile crushing and screening range at Hillhead 2022. Having recently consolidated the company's legacy brands under the Astec banner (including stalwarts such as Kolberg-Pioneer, Osborn Engineering, Telsmith, Johnson Crushers International, and Astec Mobile Screens), Astec will use the renowned quarrying exhibition to connect with customers and partners alike – both new and old.
With one of the most comprehensive product offerings in the marketplace, ranging across crushing and screening (mobile, portable, and static), material handling, washing and classifying, rock breaker technology, and the asphalt and concrete sectors, Astec are excited about growing their market presence globally.
The company has taken its 16 industry-celebrated brands, such as KPI-JCI, Astec Mobile Screens, Osborn, BTI and Telsmith in the crushing, screening, and aggregate processing markets, and Carlson, Roadtec, Rexcon, Con-E-Co and BMH in the concrete and asphalt sectors, and recently assimilated the product range under the Astec brand name.
This restructured framework guided the company to simplify its business, focus on its customers, and grow as a connected partner in the industry whilst leveraging the strength of a century of proven design. With the brands consolidated under the one name, Astec's focus is to be a partner the industries that build the infrastructure that physically connects the world. It is this commitment that has driven their decision to unify as one company under the 'Built to Connect' framework.
Ron Earl, group vice-president of sales and marketing for Astec, commented: 'We are excited to embark on the next phase of our development journey. Astec have a great story to tell and our decades of experience in the industry make us a credible alternative to many of our competitors.
'Astec Industries are soon to celebrate their 50th anniversary, but some of that success needs to be attributed to companies that exceed that mark. Our no-nonsense products are well established within the industry and built to withstand the demands of the sectors in which we operate.
'Keeping our customer at the centre of our business remains a core focus. We are one of the few OEMs that has an established global footprint to support sales, installation, service, and parts from our strategically positioned bases. We have manufacturing bases and regional offices in North America, Latin America, Canada, Africa, and Ireland, with additional regional offices in the Middle East, Asia, China, and Australia to help serve customers locally.
'We are currently recruiting additional dealers to help represent us. Hillhead will provide a great opportunity for everyone to meet the team, hear about our investment, and discuss the strategic expansion of one of the most notable names in the industry.'
Astec have invested time and money into their European facility to help support their customers and distribution network globally in all aspects of sales, service, support, and spare parts. The streamlining of the company's internal structure and operations has been a huge factor in improving efficiency and driving growth. Additionally, further investment into a dedicated ESG focus, not only in terms of developing their zero-emission technologies, but also ensuring that Astec fulfil their obligation as a good corporate citizen and implement relevant sustainability initiatives as well as sound corporate governance.
Stephen Whyte, group vice-president of product management with Astec, elaborated: 'Hillhead brings a welcome opportunity for all of us to get back out and see equipment in operation at an exhibition, and I encourage you to come view the solutions we have to offer. We are fortunate to have such a strong product portfolio and, as a company, we are invested in leveraging our product and application experience to continue developing innovative and sustainable technology.
'Connected equipment will help reduce operating costs and, ultimately, make the lives of our dealers and customers easier. Local parts availability and product support are vital alongside a product focus on performance, telematics, industrial styling, and the drive towards zero emissions, as we work to grow our global market share. We are looking forward to displaying some of these innovations to everyone at Hillhead and helping them discover the full breadth of our product range.'
Astec, who are currently seeking additional partners that share their reputation for quality, customer focus, and innovation, would welcome any expressions of representation interest in advance of the show, by emailing: hillhead2022@astecindustries.com