Repair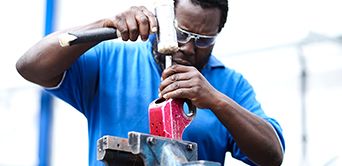 Our two U.K. based service centres located in Daventry, Northamptonshire and Sheffield, South Yorkshire are fully equipped with the latest "state of the art" repair and testing equipment. We are approved by all of our principal brands to carry out service, repair and warranty work and our highly skilled technicians have all received extensive service and repair training and certification from our principal brands.
Extensive stock of genuine and original manufacturers spare parts are available through H.E.S. Sales and we offer a 90 day warranty against all repair work. Every repair carried out is tested in accordance with the manufacturer's instructions and an individual test and calibration certificate is issued. In addition to our principal brands, we are also able to offer a first class repair service, on all other leading brands of hydraulic, pneumatic and electric tools.
Make the most of your investment in capital intensive tools, through regular servicing and repair, at an economical cost, through H.E.S. Sales tool service and repair centres.
Categories
Power tools
Hydraulic components
Hydraulic test equipment
Repair and maintenance services
Hydraulic systems