ReadyMinder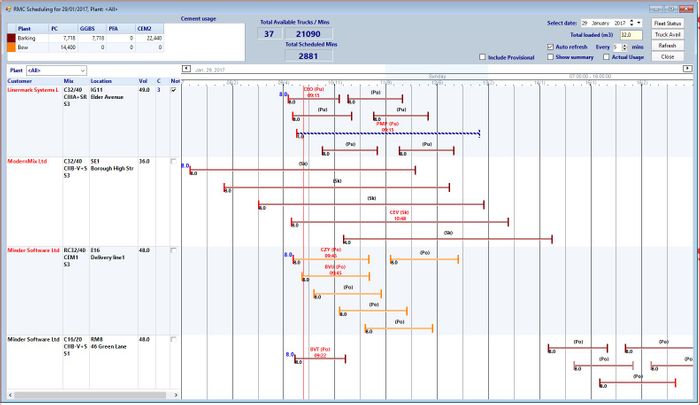 Due to the modular nature of the application, companies can purchase either the whole end-to-end system or only the functionality they require.
ReadyMinder works on the principle of only needing to input information once which the system then ties together to ensure accurate and efficient use of data. Providing easy to use input screens, ReadyMinder can generate instant quotations, contracts, delivery notes and invoices, recording all transactions against their Customer's account and in an audit trail documenting which user entered or changed what information and when.
The system is highly configurable for both bespoke and British Standard mixes with easily configurable parameters to ensure instant and accurate pricing of products.
The system links to most of the popular batching systems to provide instructions on exactly what to batch. Once the concrete has been batched, ReadyMinder retrieves the quantites that were actually batched from the batching system, providing full traceability.
The system reproduces the ubiquitous Shipping Sheet known to all ready mix businesses. This provides facilities scheduling the current day and future days deliveries from any number of plants. Crises such as driver illness or truck breakdowns, or additional deliveries, are easily handled.
A mobile app allows for paperless delivery and sign on glass capability, allowing for tickets to be invoiced on the day of delivery.
An email containing the POD is automatically sent to any number of recipients on completeion of the delivery.
Analysis and reporting functionality enables management to focus on sales conversion rates, a customer's enquiry or purchasing profile, Quotation follow up reminders and business cases for additional fleet vehicles vs. outsourced transport facilities to name but a few. Standard reports are provided within ReadyMinder and there is the capability to generate bespoke reports.
Categories
Computer systems
Computer software
Testing and analysis
Consultancy services
Concrete batching plant
Concrete block-making plant