GreaseMaster 3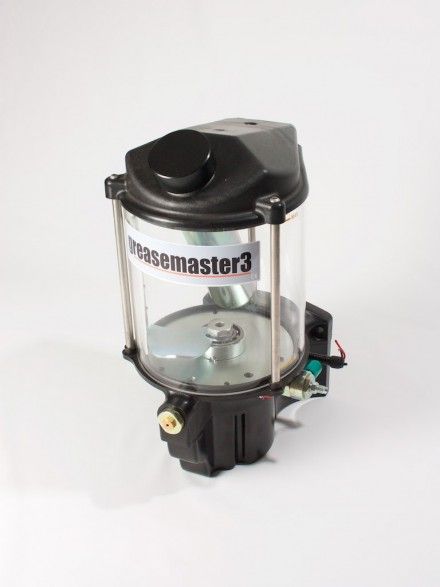 Greasemaster 3 is purpose designed to provide clean filtered grease to single line progressive distribution systems. Grease up to NLGI2 is delivered to bearings in pre-determined ratios from blocmaster distribution blocks.
Features
Unique two stage pumping system where primary piston forces grease through a 200 micron stainless filter mesh before feeding under pressure into the secondary element chamber, ensuring the high pressure stage delivers only clean grease.
External blow off valve indicates filter status.
Choice of single or double pumping elements, each delivering up to 6cc per min at 24V and 2.5cc per min at 12V.
Robust motor protected from reverse polarity and also over current by an auto-reset fuse.
Standard 5 litre or 7 litre reservoir sizes can be filled with NLGI2 grease using handgun, standard grease cartridge (optional) or volume filler.
200 bar pressure relief valve included with every pump.
Hydrodynamic impellor eliminates cavitation and cleans the reservoir so the grease levels can be easily checked.
Pump operation controlled and monitored by on board computers or external timers.
Specifications
Reservoir capacity: 5 litre
Grease Type: NLGI2 Lithium
Voltage: 12 or 24v
Current: 2amp (max)
Max Delivery: 2.5cc/min @ 12v, 6cc/min @ 24v
Categories
Lubrication
Maintenance products