Gravity Vee Diverter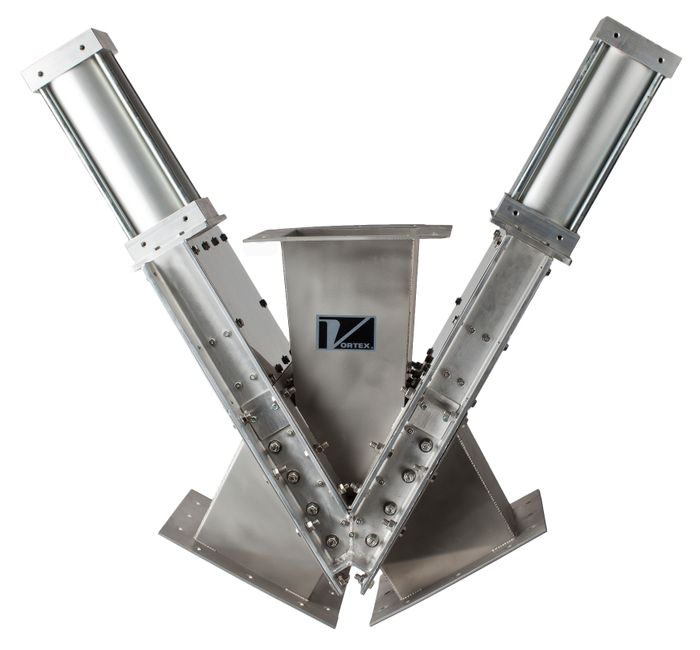 The Vortex Gravity Vee Diverter is designed for diverting dry bulk materials toward two destinations simultaneously, each destination individually, or a complete material shut-off. Featuring a "dual gate" design – each with independent actuation controls – it is ideal for use in high-actuation, gravity-fed diverting applications.
Commonly, the Gravity Vee Diverter is used to replace traditional configurations of a slide gate above a "flap" diverter. With that configuration, it is recommended that the gate halt flow before the diverter is shifted. With a Gravity Vee Diverter, the dual gates can be "shifted on the fly" to halt and/or permit flow as materials continuously pass through the valve. Therefore, the Gravity Vee Diverter improves processing speeds.
In addition, the Gravity Vee Diverter can metre and control flow toward each destination.
The Vortex Gravity Vee Diverter is known for its durability and ease of maintenance. Primary features include live-loaded, wear-compensating hard polymer seals; CAM-adjustable blade rollers; and bonnet seals which can be replaced whilst the diverter remains in queue.
Categories
Abrasion-resistant materials
Slurry pumps/valves
Dust control/suppression
Bulk-handling systems
Recycling equipment & plant