Cantex WS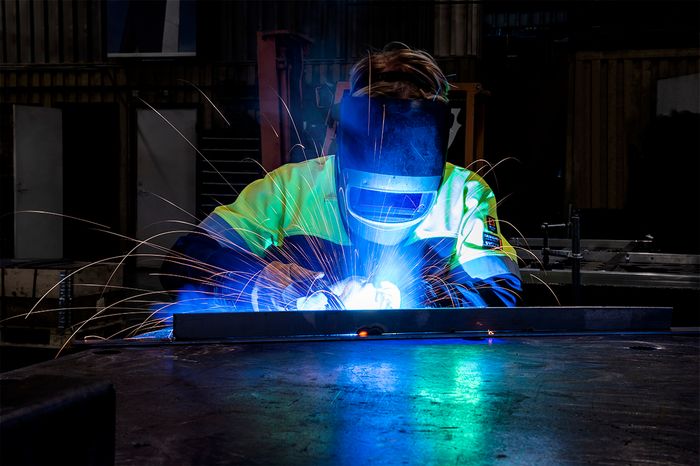 HEAVY WELDING CLASSIFICATION EN ISO 11611 CLASS 2 AND BEYOND
Cantex WS fulfils E3 metal splash standards as well as meeting and exceeding heavy welding classification EN ISO 11611 Class 2. These levels of protection are vital in steel mills, heavy industry plants and other extreme workplaces where smelting takes place and splashes or sparks of hot metal are an everyday occurrence. Cantex WS has extra protection in the front of the garment, ensuring these run off and preventing burn through, which can have serious consequences for both the wearer and the garment. Cantex WS also has a high arc rating, is stronger than previous Cantex fabrics and has optimised high-visibility performance.
COMFORT YOU CAN TRUST
Performing a physically demanding job in a high temperature environment creates special demands in terms of protection and flame / heat resistance. At the same time, keeping the wearer safe is not the only criteria. Comfort and freedom of body movement also define how efficiently the wearer can carry out their tasks. Here's how Cantex WS harmonises wearer comfort with world-class safety.
Garments feature stretch material in the back, allowing the wearer to move more freely.
The front of the garment has extra protection.
Although the new fabric offers more physical flexibility in the back of the garment, it still provides more protection than the previous generation of Cantex fabric.
Lightweight fabric reduces physical stress even further.
All garments are designed to offer a contemporary fit and our range includes specially designed male and female collections.
FLUOROCARBON FREE
Cantex WS is the world's first fluorocarbon free Flame Retardant fabric. Many protective garments are treated with fluorocarbon in order to make them more resistant to chemicals, water and dirt. Unfortunately, fluorocarbon does not break down in nature, so as a result, these garments leave a heavy environmental footprint. With our focus and commitment to sustainability and the environment, we set out to find a less harmful solution - and we're proud to say that fluorocarbon free Cantex WS is a major breakthrough.
LONGER LIFE, REDUCED COSTS
Cantex WS garments are robust and highly resistant to acids and alkaline. All strength values are considerably improved with as much as +200% in wear resistance in the front of the garment and up to +100% in tear resistance elsewhere. If properly cared for and cleaned, they can offer an extended product lifespan. In turn, this reduces the Total Cost of Ownership, making them a more cost-efficient solution over a longer period.
Categories
PPE clothing and accessories
Workwear