AIO Quick Hitch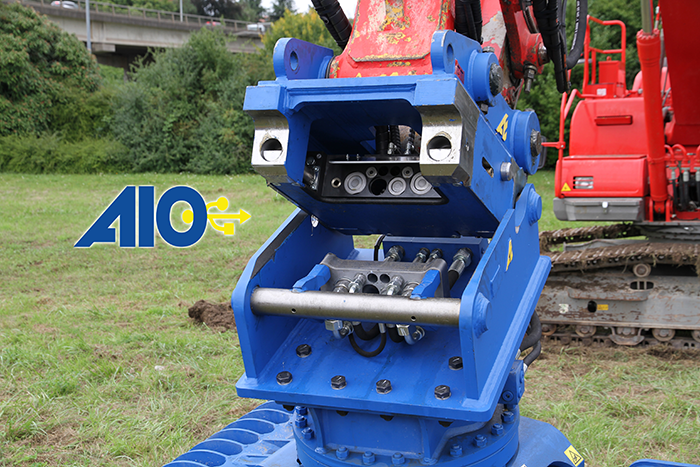 The AIO is Arden Equipment's new fully automatic All-in-One quick coupler for excavators from 12 to 30 tons that will boost your productivity. This new quick coupler with automatic connections makes it possible to change hydraulic and mechanical tools in less than 10 seconds in complete safety without leaving the cab. This new All In One feature combines all the oil, grease, electrical and water connections that will allow you to easily install the Arden Jet technology.
Compact, robust and featuring very high pressure and very high flow connectors, the AIO is compatible with the most powerful equipment on the market and therefore adapts to the most demanding applications on your sites such as those of demolition and recycling.
Arden Equipment aims for total safety of its quick couplers and has developed the quadruple security of the AIO which makes this quick coupler one of the safest on the market. It has a visual tool locking indicator, two powerful springs to hold the tool in the event of hydraulic failure, a front axle safety pallet to ensure tool positioning and non-return valves to strengthen the retention of the tool. The quadruple safety of AIO surpasses current standards and meet with both ISO and SUVA standards.
In addition to being reliable, the AIO is environmentally friendly thanks to the integrated waterproof system which limits oil leaks into nature!
Categories
Demolition tools
Crushers
Buckets and attachments
Hydraulic breakers
Dust control/suppression
Crusher buckets
Recycling equipment & plant
Couplings