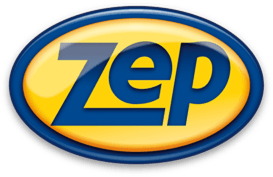 Zep is a leading innovator, producer, and distributor of maintenance and cleaning solutions for retail, hospitality, industrial, institutional, and automotive care customers.
Zep brings a large portfolio of premium brands built over an 80-year legacy of developing the most effective products, trusted by professionals and consumers to get the job done right the first time.
Zep offers a wide variety of high performing chemicals solutions to help with cleaning, disinfecting and maintenance needs. Zep's comprehensive product range provides the best service solutions, innovative products and state of the art technologies which guarantee that the highest levels of cleanliness are consistently delivered throughout.
Zep is dedicated to providing superior quality products, service and value through reliability and responsibility and commitment to the highest safety and quality standards that you can rely on at low-cost prices which doesn't compromise the end result.
It's Zep's commitment to keeping workplaces safer, cleaner and more productive.
Address
Tan House lane
Tan House lane
Cheshire
Widnes
WA8 0RR
United Kingdom