K-Form Screen Rails
Stand: RC10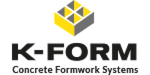 K-Form uPVC Screed Railing provides the construction industry with an economical, efficient and environmentally friendly alternative to steel shuttering.
Made from recycled materials, K-Form is lightweight, durable and does not require removal after concrete pouring. It is easily cut to length on site and has pre-drilled holes in the vertical face for locating steel dowels bars and in the base for mortar anchoring. Furthermore, the design features end clips for joining and a removable top strip for joint sealing.
Designed to be used with twin beams, bunyan rollers or vibro strikes, K-Form K135 and K85 disposable railing replaces steel forms where joints are needed.
Address
Industrial Park
Ely Road
Waterbeach
Cambridge
CB25 9PG
United Kingdom