Excavator Forklift
Stand: S6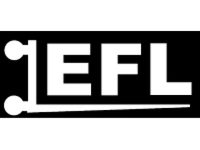 At Excavator Forklift (EFL) we have designed and now manufacture a cost-effective range of lifting attachments that allows users of 0.8 -3 .5 tonne excavators to quickly and safely lift much more.
The attachment makes light work of handling common 1-1.5 tonne deliveries
Attachment and detachment are quick and easy, with limited modifications to the machine being required.
The attachment works off the excavator hammer service, re-directing the hydraulic pressure of the digger to create a vertical lift by the attachment.
Excavator weight determines lift capacity.
To give a sense of lifting capacity, our high lift (c. 1.6m lift) model, fitted to a 1 tonne digger can lift 1 tonne i.e. 100% of digger weight.
Our low lift (20cm lift) model can lift 125% of the weight of the excavator to which it is attached (capped at 3 tonnes)
Address
157 Shore Road
Magheramorne
Larne
Northern Ireland
BT40 3HY
United Kingdom