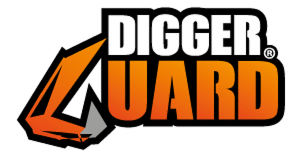 DIGGER GUARD® - INNOVATIVE ROBUST PRODUCTS FOR MANUFACTURERS AND DISTRIBUTORS OF YELLOW GOODS.
Digger Guard® manufacture patented products for the ultimate protection of construction machinery and worker safety.
Digger Guard® Vandal Guards – a hang-and-lock panel system for windows and cabs using innovative materials and installation features to ensure optimal protection and ease-of-use.
Lightweight, durable, and easy to handle.
Enclosed storage that prevents water build-up and keeps panels clean and secure.
Reduces noise pollution for machine operators.
Digger Guard® Polymer Handrail Systems resolve issues that are commonplace with metal rails by using corrosion-proof materials and innovative vibration dampening features to minimise fatigue.
Optimised strength and durability - pull tested by Lloyds British.
Reduces vibration fatigue.
Doesn't rust or need repainted.
Company
Award winning UK manufacturer.
Specified by major manufacturers and distributors.
3D scanning technology aids rapid development.
Responsive and engaging customer service.
Continuous improvement process.
UK-wide fitting and service team.
Dependable supply chain.
Address
Units 2-3 Adamsez East Ind Estate
Scotswood Road
Newcastle upon Tyne
NE15 6XA
United Kingdom
Introducing our new patent-pending Digger Guard® Handrail System for excavators and other construction machinery. Our innovative 'boxing ring' improvements solve industry-wide problems and outperform ...